Arthur Sidney Reffell (1897-1992)
Private 8227 9th Battalion Royal Sussex Regiment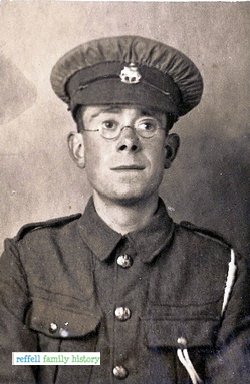 Arthur Sidney Reffell was born on 3 January 1897 at Tunbridge Wells to parents Alexander Reffell (1858-1947) and Lucy Maria Vinall (1857-1908). He was baptised at the Holy Trinity Tunbridge Wells on 28 March 1897. He was the youngest of five sons, three of whom died in childhood. The other brother was George Stanley Reffell although he was killed in the First World War.
He served for 1 year and 227 days, of which 146 days were abroad where he was wounded. An outline of his service history is shown below.
He was awarded the Victory Medal, the British War Medal & the Silver War Badge. Medal information can be found on the World War 1 medals page.
John married Ethel Clara Pinder in 1927 at Tunbridge Wells, and died there during 1992 aged 95. He was cremated at the Tunbridge Wells Borough Cemetery.
World War 1 Service History of Arthur Sidney Reffell:
12/11/1915 Attestation at Horsham, age: 19 years
29/3/1916 Embarked for France
20/8/1916 Wounded; gun shot wound to left wrist
22/8/1916 Embarked for UK
26/6/1917 Discharged
Service details taken from 'Unburnt Document' series WO364 held in the National Archives at Kew and the Medal Rolls Index WO329, better known as the Medal Index Cards.
The photograph of Arthur Sidney Reffell is by very kind courtesy of Claire Conely.