Horace Edwin Joseph Reffell (1865-1902)
3270 Colour Sergeant 5th Battalion, Liverpool Regiment Militia/King's Liverpool Regiment
Horace Edwin Joseph Reffell was born in 1865, the eldest son of Edwin Reffell (1828-1895) and Fanny Frampton (1834-1892) from the Buckinghamshire farmer's branch of the family. His brother Herbert William (1867-1953) became a butcher.
Horace enlisted into the Royal Scots Regiment at Glencoe on 12 November 1883, aged 18 years 6 months. He listed his occupation as a labourer, had blue eyes, brown hair and was 5′ 7″ tall. He was to be in the army until he died aged 37 in 1902. During his service he served in India from November 1889 to November 1892, and in South Africa twice; from September 1886 to September 1889 and from December 1901 until February 1902.
In March 1888 he deserted from the army until he was found in September of the following year. He was tried and found guilty, being sentenced to 42 days in prison. However this did not seem to harm his military career, as he was then quickly promoted to corporal in April 1892, sergeant in April 1895, and then to colour sergeant in 1901. A Colour Sergeant is a non-commissioned rank in the infantry regiments of the British Army, ranking above Sergeant and below Warrant Officer Class 2, and was introduced into the British Army during the Napoleonic Wars to reward long-serving sergeants.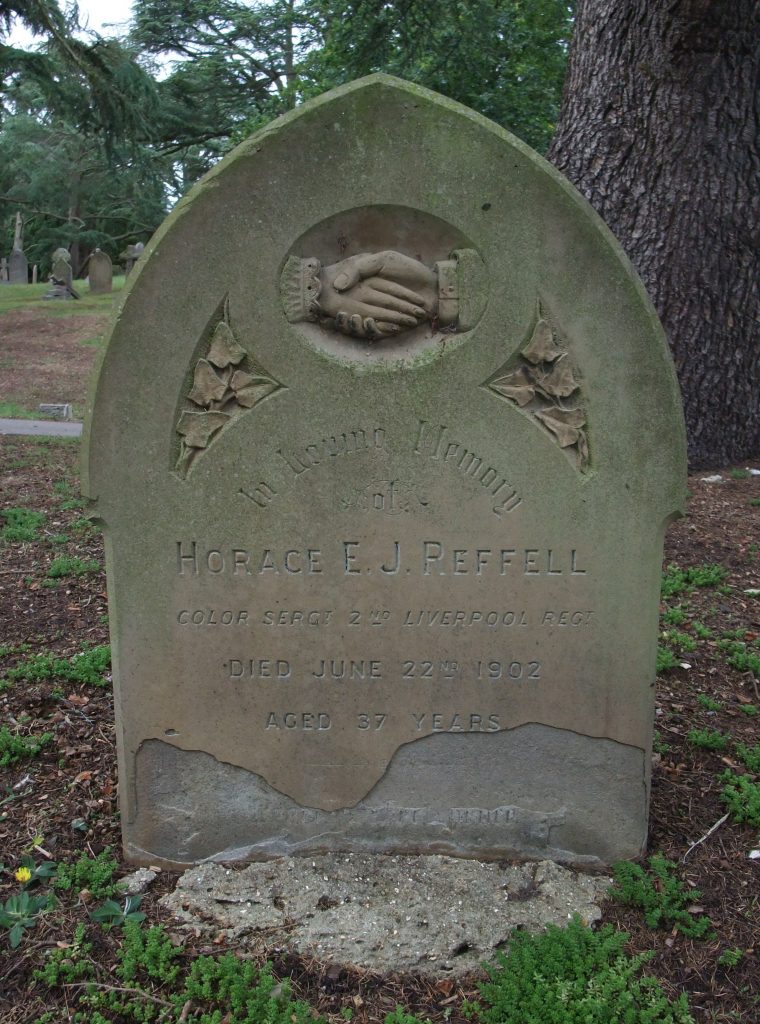 Horace married Grace Florence Toomey (1873-) at St Peter Manchester on 13 January 1894, there were no children. In 1901 they were both in the Orford Barracks in Warrington. In 1901 he was awarded the Queens South Africa Medal.
Unfortunately he was hospitalised soon after arriving in South Africa for the second time and was transported back to the UK on the SS Orient in February 1902. He died in the Aldershot Hospital of Valvular Disease of the Heart on 22 June 1902 and was buried at the Military Cemetery at Aldershot. This had been brought on following an attack of rheumatic fever, a common cause then of the disease. After his death Grace was remarried in 1908 to John Herbert Robinson in Lancashire.