Alan Herbert Reffell (1895-1979) was a engineer who ran a motor business in Gomshall Surrey between the wars. His parents were William Joseph Reffell (1859-1931) and Kate Maria Boorer (1869-1909). He was the second of three sons and also had four sisters. One of his brothers was Maurice Victor Reffell. He married Violet Mary Durant on 21 November 1915 and they had two children.
He enlisted on 30 June 1913 into the Royal Flying Corps as an Aircraft Mechanic and served in a number of squadrons including some in France. Alan Herbert also qualified as a pilot for the Royal Aero Flying Club certificate on a Maurice Farman biplane on 17 May 1915. He was discharged from then Royal Air Force on 29 June 1921.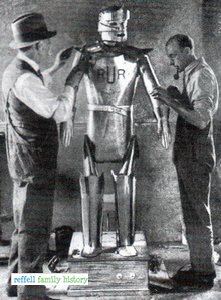 During his time in the air force it is believed that he met Captain William H Richards, also a veteran of the First World War, and a noted journalist. When the Duke of York was unable to open the Exhibition of the Society of Model Engineers in London on 20 September 1928, his place was taken by Eric Robot. Captain Richards was secretary of that organization, and with Alan Herbert Reffell had made the 'robot' to open the exhibition. At the appropriate time on that date in the Royal Horticultural Hall; Eric arose, bowed, looked to the right and the left, and with appropriate gestures, proceeded to give a four minute opening address.
In the image on the right, Richards is on the left and Reffell is on the right, Eric is the one in the middle! Eric Robot was made of aluminium, not unlike a medieval knight in armour. His eyes are white bulbs with red pupils painted on them and his feet are fastened to a box, in which there was a twelve-volt electric motor. Inside his body there was another motor, eleven electro-magnets, and about three miles of wiring. He could move his arms & his head, and stand up. There were two methods of control; by the use of remote wireless where a hidden person was able to answer the questions asked, and secondly by direct control of Eric's movements using voice control.
It is not known what happened to Eric after he went to the United States in early 1929. WH Richards went on to produce a more expensive robot called George in 1932. Alan Herbert carried on his motor business and later expanded into making engineering lathes for a Second World War government contract. Alan Herbert Reffell died on 26 October 1979 at The Furniture Shop Bassetts Hill Dormansland in Surrey aged 84.
Many thanks go to Reuben Hoggett for the information about Eric Robot, more of which can be seen on his cybernetic zoo website.
Eric has been recreated in a modern form by the Science Museum following a crowd-funding campaign.