Herbert Alfred Reffell (1886-1948)
Private 224 11th Battalion, 'B' Levy, Australian Imperial Force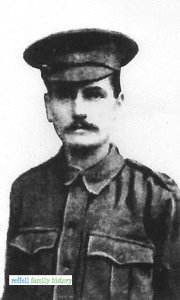 Herbert Alfred Reffell was born in January 1886 at Peterborough to parents William Reffell (1851-1928) and Sarah Ann Rodgers (1858-1940). He was the third of four sons and also had three sisters.
Although still a British subject, Herbert Alfred joined the Australian Army as a private in 1914 and served in Gallipoli, where he was wounded and then invalided from the army. He had previously served for 3 years with the Berkshire Yeomanry. An outline of his service history is shown below. He was awarded the 1914/15 Star, the Victory Medal & the British War Medal.
Herbert Alfred died in Bendigo Victoria Australia in 1948 aged 62 and was buried in an unmarked grave. Thanks to the efforts of Vicki Key who had applied to the Australian Government Department of Veteran Affairs Office of Australian War Graves, a plaque was produced, which was taken to Anzac Cove (see photograph below) before being put at his gravesite.
World War 1 Service History of Herbert Alfred Reffell:
9/9/1914 Attestation at Blackboy Hill, Western Australia, age: 28 years 8 months
2/3/1915 Embarked Alexandria 'MHT Suffolk'
30/6/1915 Gun Shot Wound in the left foot, Gallipoli
31/6/1915 Hospital ship 'Sicilia'
8/7/1915 In Mena House Hospital, Cairo
2/10/1915 Embarked Cairo for the UK
15/10/1915 In 2nd Southern General Hospital, Bristol
8/5/1916 Embarked Portland UK for Australia, 'HS Themistocles'
15/8/1916 Discharged
Service details taken from records in the Australian National Archives.
Anzac Cove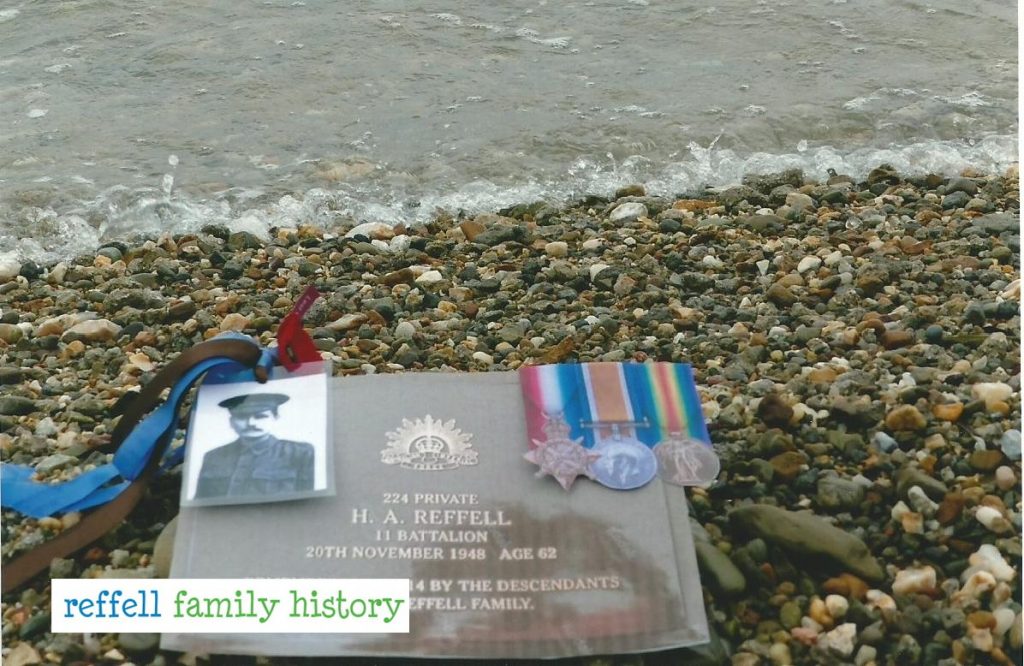 Herbert's plaque and medals. This photograph was taken on Anzac Cove beach 100 years after he landed at the same location, and was kindly arranged by Vicki Key in Australia.