Charles Burchatt (1816 – 1875)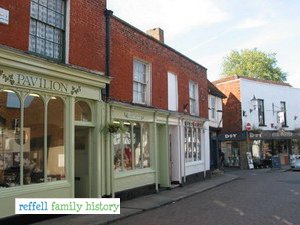 Charles Burchatt was the ninth of eleven children born to Thomas Burchatt (1777-1821) and Ann Twycross (1777-1840) who were married in 1799 at the church of St Peter & St Paul Godalming. Charles was born on 26 January 1816 and baptised at the same church on 3 April 1816. He had 3 brothers; John, Thomas & Edward Twycross and 7 sisters; Elizabeth, Mary Ann, Rebecca (who was to marry Henry Hatch Reffell in 1835), Susan, Charlotte, Marie Twycross and Matilda.
Charles married Harriet Ansell in the old church of St Peter & St Paul Albury on 9 November 1840. The following year they were living at Church Road in Godalming, where Charles was making a living as a baker in a shop that was previously owned by his grandfather John Twycross who had recently died. The following year the property was purchased from the estate. Charles and Harriet had four children; Charles (who appears to be a little bit early being born in 1836, so there may a story there), Mary Ann (1843), Elizabeth (1845) and Edward (1848). Of these four children, only Elizabeth was to marry. The business can be traced through the next sixty years using the various censuses and copies of the Godalming Directory from 1868 onwards.
Their shop was at 9 Church Street, which dates from the 17th century although it has a Georgian frontage. The photograph shows how this shop looked in October 2008. Son Charles also grew up to became a baker with his parents from the late 1850s and then took over the business after his father's death in 1875. After Charles' own death in 1890, the shop was briefly taken over by his sister Elizabeth, who in 1865 had married George Wyeth, a currier (tanner) by trade. By 1891 the Wyeths have a Draper's shop around the corner at 85 High Street, and the Church Street baker & pork butcher's shop in Church Street is now being run by Alfred Joseph Ames, who does not appear to be related.
Charles who died aged on 11 September 1875 was only 59 and was then buried at Nightingale Cemetery Godalming five days later. His wife Harriet followed him to the same cemetery just five years later. In this peaceful cemetery there is a large family grave which contains most of this part of the family; including sons Charles & Edward Burchatt, daughters Mary Ann Burchatt & Elizabeth Wyeth and grandson George Edward Wyeth. Elizabeth Wyeth's husband George is also buried in the same cemetery, but in a grave shared with his parents; Daniel Wyeth and Charlotte Roberts.
Many thanks go to Ann Laver of Godalming Museum and Joanna Cadisch for help & assistance with this article.