The Second Reffell Brewery (1853-1874)
Following the failure of his lawsuit against his brother William Joseph over the Black Horse Gomshall, Henry Reffell (1817-1876) moved to Redhill and became the publican of the Somers Arms.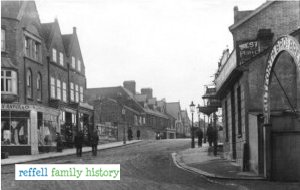 The original Somers Arms was on the corner of the Brighton Road and Mill Street. Built in 1817 by one Samuel Relf, it had lost much of its trade by the time that it closed in 1846. Just down the road a new pub called Somers Arms was opened, and it is said to have even used the same sign. It was offered it up for auction at the Railway Hotel in Redhill on 6 July 1853, described as "Somers Arms and Brewhouse, a leasehold messuage lately erected by him". Henry Reffell was the highest bidder at £430 for the residue of the term of the 50 years lease . Another property leased in the area to Henry was The Star in Observatory Road. On the 24 September 1874, Henry Reffell assigned the leasehold of the Somers Arms and brewery for £2,500 to Mr Charles Dagnall junior of Point Pleasant, Wandsworth and then moved to Kent to start the Bexley Brewery. Behind the pub and at a lower level was the brewery. The photograph on the right shows Reffells Bridge around 1905, the brewery had since 1891 been owned by the Cutforth Brothers, Walter and Samuel. In 1914 the Redhill Brewery was acquired by Bushell, Watkins & Smith Ltd. of Westerham and the property was demolished in 1972. The part that was the pub itself is still in existence and is known as Somers House.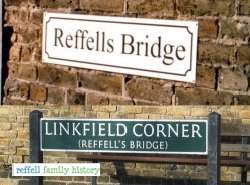 This part of Redhill is still known as 'Reffells Bridge' after the bridge over the railway line from Redhill to Reigate. In the late 1990s the local council was concerned at the incorrect spelling of the name by a local business and thus put up two signs with the correct spelling on the bridge. These signs have now been replaced with one that is spelt with an apostrophe.
Landlords of the Somers Arms
1851 Samuel Relf
1861 Henry Reffell
1871 Henry Reffell
1881 Matilda Fuller
1911 George Frederick Graves
1939 William H Monahan
Much of the 'Somers Arms' information and the old photograph is provided by the courtesy of Alan Moore and Richard Symonds from The History of Redhill & Reigate website. Richard has also written a book 'A Brewing Heritage' about the history of brewing in the Redhill and Reigate areas. This includes a comprehensive chapter on the Somers Arms.