Herbert William Reffell (1867-1953)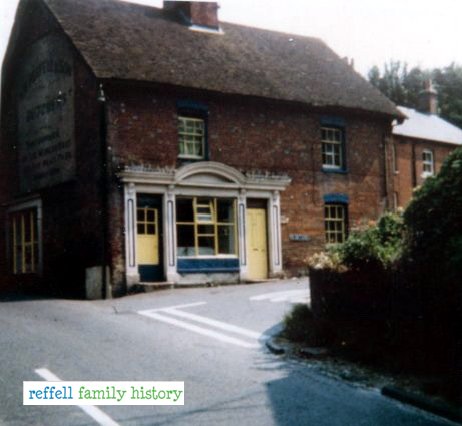 Herbert William Reffell was born in 1867. His eldest brother Horace joined the army in 1883. By the time of the 1891 census Herbert William was employed as a butcher and was lodging at 5 Mill Lane Streatham. He married Amelia Ellen Coulter in 1893, the daughter of Austen Coulter & Sarah Sutton who were also butchers, as was her elder brother; another Austen. Herbert was 26, Amelia was 16. By 1901 Herbert William was running a butchers shop at 10 Sunnyhill Road Streatham and was employing two assistants.
Herbert and Amelia had 4 boys and 12 girls at Streatham. However, tragedy visited this family a number of times. They lost four children in the space of only six days during 1900, with two children dying on the same day and are buried together (see photograph below). Finally, following the sad loss of their last child Irene at the end of 1922, they decided to move from Streatham to Downton, Wiltshire where they bought a shop and dwelling on the corner of Lode Hill and Slab Lane from a Mr Clark.
Downton had a medical charity from early in the 19th Century that was funded mainly by the rich, although there was also some form of regular saving by potential patients that ensured them priority treatment. The charity had a sick bay in the local Workhouse, and for a time the house that Henry William had bought was additionally a fever hospital. In 1931, the eleventh child of Herbert & Amelia, Gwendoline Marguerite Reffell was married to Herbert Hull, he was a butcher and worked for his new father-in-law. After the Second World War the business was taken over by their fourteenth child, John James who was known as Jack. Herbert and Amelia still lived in the house until their deaths in 1953 and 1963 respectively.
In the 1980s being on busy main road with no footpath to the village, the butchers shop closed and John James & wife Bathia (nee Michie) moved to Gloucester where they died in 1992 and 1987 respectively.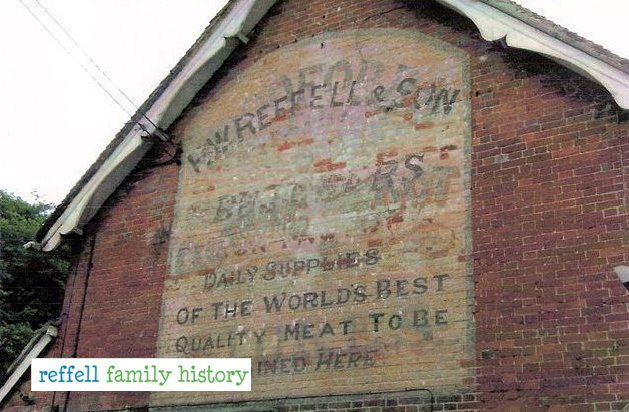 The two photographs above were taken in 2005 and show that the sign for the butchers could still be made out;
HW REFFELL & SON. BUTCHERS. DAILY SUPPLIES. OF THE WORLDS BEST QUALITY. MEAT TO BE . OBTAINED HERE.

Underneath there is an older sign which says; WOODFORD'S CLOTHING AND BOOT STORES.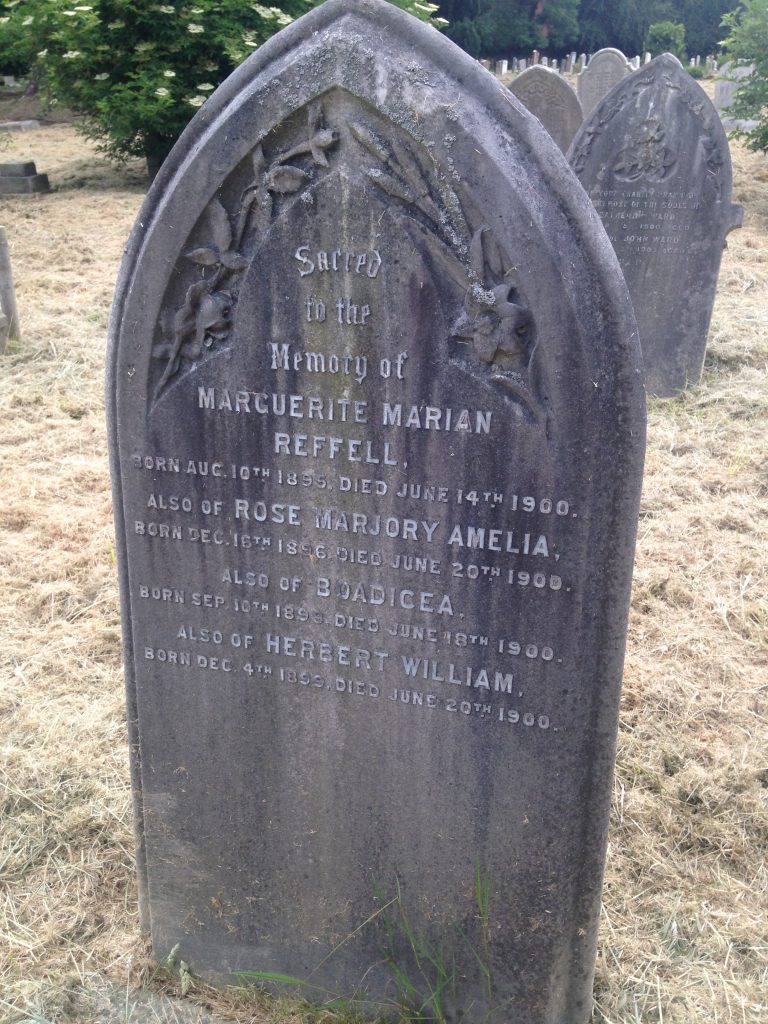 Although Herbert and Amelia had sixteen children, a half of them did not survive to adulthood. The four children who died in 1900 were Marguerite (4), Rose (3), Boadicea (20 months) and Herbert (5 months). They are buried together in Streatham Cemetery (right). However three of their children had long lives, living to 85, 91 and 96.
Personal Information:
Father: Edwin Reffell (1828-1895)
Mother: Fanny Frampton (1834-1892)
Born: 18 October 1867 at West Wickham Kent
Married: Amelia Ellen Coulter (1871-1963) in 1893 at Wandsworth
Children: Dorothy Ellen (1893-1979), Marguerite Marion (1895-1900), Rose Marjorie Amelia (1897-1900), Boadicea (1898-1900), Herbert William (1900-1900), Ivy Rowena (1901-1993), Winifred Primrose Sybil (1902-1903), Edwin Herbert Joseph (1903-1931), Horace Leon Cedric George (1905-2001), Amelia Patricia (1906-), Gwendoline Marguerite (1908-1965), Mary Alexandra Victoria (1910-2002), Margaret Alice Theresa (1911-1975), John James (1914-1992), Myrtle Rose Muriel Doris Margarita Winifred (1917-1918) and Irene (1922-1922)
Died: 1953 at Slab Lane Downton aged 85
Buried: 1953 at Barford Lane Cemetery, Downton, Wiltshire
Many thanks go to Edwin John Reffell for the original story and the early photograph. Many thanks also go to Robin Hull for the two later photographs and additional information.