John Moy (1790-1875)
John Moy was born during 1790 at Epsom in Surrey. It is not clear whether it was his second marriage, but Emma Reffell had become his wife in 1859, having lived with him from at least 1849 when their daughter Jane Emma Reffell was born. She was 33 years younger than him.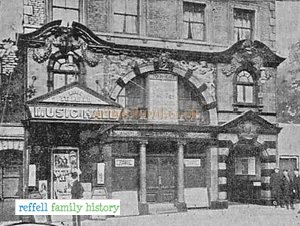 The Royal Standard Hotel was originally built in 1832 as a small hotel and tavern in Stockbridge Terrace, near where the frontage of Victoria mainline railway station stands today. John Moy had become the proprietor by 1840 and had obtained a licence for singing and dancing on the premises. This became a big success and as a result he had the building enlarged. At this time the building was known as Moy's Music Hall, but in 1854 it was renamed as The Royal Standard Concert Rooms and is seen on the right.
John (licensed victualler 60), Emma (28), daughter Jane Emma (3) and mother-in-law Elizabeth Reffell (gardener's wife 63) are shown in the 1851 census as living at The Royal Standard 38 Stockbridge Terrace, with house servants Anne Tongerman & Jane Lane and waiter William Absolom.
Emma died on 14 April 1863 here and this may have been the reason why the premises were put up for sale by auction on 15 October 1863, as announced in The Times. In the announcement it was stated that John Moy retiring after '36 successful years'. They were sold to a man called Alfred Brown who had the building refurbished and renamed as The Royal Standard Music Hall, opening on December 26th of that year.
These premises were however completely demolished in 1886 for the London & Brighton Railway railway station and was replaced by a building on Victoria Street. In turn, this was demolished in 1910 and replaced by the building opened on 6 November 1911 that is today the famous Victoria Palace Theatre.
By 1871, John (retired publican 81), his unmarried daughter Jane (21) and grandson Hubert Ernest Reffell Moy (4) were back in Downs Road Epsom. She had another child called Arthur Walter Reffell Moy who died aged only a few months old in 1869. These came about as Jane was the unfortunate victim of a bigamous marriage. On 27 August 1865 she had married Henry Frederick Stocker Mignot at All Saints Fulham. Her age was stated to be 21 although in fact she was just 16. At a trial at the Old Bailey on 9 April 1866 he was sentenced to seven years transportation, as he had already been married to Mary Jane Parker Wadsworth three years earlier. Jane had a further two children after she married William Edwin Watts in 1882, dying in Thame on 4 April 1929.
Royal Standard Concert Rooms image by kind courtesy of Matthew Lloyd of the Arthur Lloyd Music Hall and Theatre History Website