Arthur John Charles White (1830-1893)
Many of the Reffell family were involved with the brewing or selling of beer, and often both. Sometimes the female line went on to marry 'in the trade'. Such as Harriett Reffell, the fifth daughter of John Reffell, when she married Arthur John Charles White who in 1862 became the publican of the 'Eagle' public house at 46 Croydon Road Reigate Surrey.
Arthur John Charles had been born to John White and Lydia Sophia Dee on 18 April 1829 and baptised at St Pancras Old Church on 13 May 1829. In their early days of their marriage, Arthur and Harriett had moved around the country with Arthur's work, as can be seen by the children's births; Arthur Henry, born Lewisham 1852; Horatio, born Gomshall 1853; Harriett Sophia, born Weybridge 1854; Alfred, born Weybridge 1856; Ada, born Southampton 1860 and Edwin Albert, born Reigate 1867.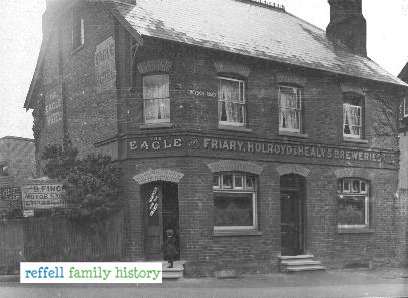 The Eagle stood at 46 Croydon Road between the railway bridge and the junction with Doods Road. Arthur John Charles White is listed there in 1862 edition of Kelly's Directory. He died on 28 September 1893, although he had left the running of the inn from at least 1884 to the eldest son Arthur Henry White, who then continued on for another eight years. Second son Horatio had moved to the Roses Brewery in Redhill by 1887. The Petty Sessions Report for 1892 describes the Eagle as a "fully-licensed house owned and tied by trade to The Friary Brewery Co Ltd of Guildford" and that it was "Run by A J White who resides on the premises; the Inn is frequented by gentlemen's servants and labourers." Arthur Henry White eventually sold the freehold of the Inn to Friary Holroyd & Healy's Breweries Ltd of Guildford on 17 June 1896 (see the photograph on the right). By then the brew house had closed, but the pub itself lasted until 1956. It was then in use as an area office, but was finally demolished during early 2008.
Much of the 'Eagle' information and the photograph is provided by the courtesy of Alan Moore and Richard Symonds from The History of Redhill & Reigate website.