William Reffell (1797-1846)
There is some degree of doubt over William Reffell's parentage. It was alleged during the court of appeal into the will of Madame Caballero, that his father was the Richard Reffell who married Mary Leshley, being the widow of John Leshley and the mother of the Madame. This was not proved beyond all doubt in court and hence the will judgement went against the Reffell family. Nonetheless, there is strong circumstantial evidence that this was indeed the case, as is evidenced by the fact that she took over guardianship of the children after their father's early death.
William was born in Chichester Sussex during 1797 and had two diverse careers. At the age of 14 he joined the navy and served on a number of ships including HMS Spartan, HMS Marlbro', HMS Albion and HMS Northumberland. He then left the navy around 1815 and became a schoolteacher during the 1820s in the Marylebone area of London. He was married to Elizabeth Parry at St Anne Soho on 21 March 1820, and their first three children were baptised in St Marylebone; Mary Ann (1820), William (1823) and Antonio (born & died Devonshire Street 1825). Their next child John Alfred was born in 1827, somewhere in Middlesex.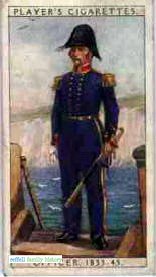 William then re-entered the Royal Navy in 1827 as a mate on a number of ships, including HMS Ramilies, and then rose to become a Lieutenant in the Coastguard service. There were a further six children:-
Alfred James, 1828 Ringwould Kent
Edward Forrester, 1830 Ringwould Kent
Elizabeth Sarah, 1832 Milton-by-Gravesend
Nelson, born & died 1835 Portsmouth, Hampshire
James, born 1837 Marylebone, lost at sea around 1871
Richard, 1840

William is shown in a number of the Officers Navy List at the time, being a Mate/Second Lieutenant and then a Lieutenant with the Coast Guard service. His seniority was stated to be from 7/2/1828, although he had joined the navy in 1811. From around 1840, he was stationed in Ireland. The records show that he transferred from the Revenue Cruiser Adelaide, to Trybane in County Donegal, and then onto Colaris in Castletown Bearhaven County Cork during 1844.
Elizabeth died on 7 June 1844 and William died on 6 August 1846, in circumstances which are currently unknown, the brief account in his service record states simply that he 'died'. After his father's death, seventh son James entered into the Greenwich Hospital School in 1848, his application being supported by Madame Caballero. On 15 January 1847 she applied for and was granted William's half pay arrears, in her position as aunt and guardian of eight minor orphans.