A Tunbridge Wells Belle
In the mid 1800s Tunbridge Wells was a developing centre of commerce and culture that attracted many socialites of the day. None was more mysterious than a beautiful belle called Madame Caballero, who owned many properties in London and Kent.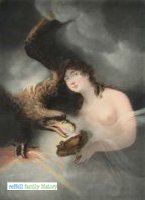 Baptised Mary Ann Leshley on 20 November 1788 at Chichester West Sussex, it may have been expected that the future Madame C would grow up to marry a local boy and lead an uneventful life. This was however not to be. Using the name Moll Raffles, she started at the bottom (sorry about the pun) although the name 'Raffles' was not actually a misspelling of Reffell(s), but rather came from a previous practice early in her career of being 'raffled' off to the highest bidding officer! In time she became a high-class courtesan to a number of famous people. These were to include – allegedly – Sir William Knighton (physician & secretary to the Prince Regent) & Lord Arthur Wellesley – the 1st Duke of Wellington. She became the talk of Regency gossip and it is believed that she was the model for the painting of Hebe serving nectar to the eagle Jupiter (as shown on the left). Moll Raffles was competition for Harriette Wilson (1786-1845) who also was 'associated' with the Duke of Wellington, although Harriette later fell out of favour with him. When hearing of her plans to write her memoirs, the Duke responded with the famous quote 'publish and be damned'.
On 20 October 1820 she married Antonio Aureliano Caballero y Terreros (1795-1870) at St. Marylebone, in a wedding which may have been set up by the Wellesleys and she was henceforth known as 'Madame' Caballero. Don Antonio was of high standing in the Spanish aristocracy, and he had a varied and sometimes illustrious career in the Spanish Diplomacy. He appears to be in England sporadically until he died in 1870. Madame Caballero has now become very wealthy, owning a number of properties, including the estate called Grecian Villa in Tunbridge Wells.
Madame C said that she had no offspring, but there is a very strong possibility that she did actually have a child by a very distinguished gentleman with vice regal duties in Ireland. She lived at her various properties with her servant and a number of nieces and nephews, including: John A Reffell, Caroline Leshley (who later became the first wife of Edward Forrester Reffell) and John Leshley. The first of these may have possibly have been a descendent of her own child, which would become the subject of litigation upon her death. It can easily be seen that there are a number of connections between the Reffell & Leshley families.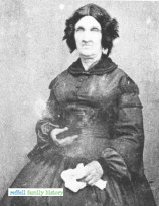 In later years, it may be said that she was not perhaps not regarded as the nicest person in Tunbridge Wells. She had by then gained a bit of a reputation and in an article published in The Courier in 1908, the 'Rambler' reflected that '… I should prefer to be without this worlds' goods if it made me in my old age as it made her'. In a photograph of her in old age (shown on the right) she looks quite stern, and had by then developed somewhat of a passion for furniture auctions that she filled her many properties with.
Intriguingly, when she died on 10 June 1877 there was no major obituary in any newspaper, which is surprising for such a social figure. There was only a short paragraph in The Tunbridge Wells Journal dated 14 June 1877, saying that she had died 'aged 100'. However, she was actually only 89 which shows that there may have been a few issues there. She is buried under a plain granite tomb with her name of 'Madame Caballero' in the Tunbridge Wells Borough Cemetery. Her long-standing servant Sarah Crittle is buried nearby in the same cemetery.
Even in death she was controversial, for although it was known to have been written, no will was ever found, only a codicil for part of the estate, benefiting her companion Sarah Crittle and her doctor Frederick Manser. Unfortunately Sarah did not benefit as she had died the year before. The probate was eventually proven solely based upon the codicil. The rest of the estate (valued at over £20m at today's prices) was then awarded to her nephew John Leshley. The Reffell family felt somewhat upset at this and started proceedings alleging that they had as much right to the estate, based on the well held belief that John A Reffell was a direct descendent of Madame Caballero, and said to be from her mother through a second marriage to Richard Reffell. The Times eventually reported on 3 February 1887, that the court decided that there was not enough evidence to support the Reffell claim, there was an appeal that overturned this, but then this was again overturned by their Lordships and the estate finally went as per the original probate.
Grecian Villa and its grounds was emptied and soon sold off, and the size of the estate can be seen from the number of terraced properties built upon it in the area now of Buckingham, Grecian and Norfolk Roads. In 1911 John Leshley was still living in Claremont Road Tunbridge Wells on his 'private means'.