James Reffell (1784-1842)
James was born in Church Street Deptford and baptised on 2 June 1784 at the church of St Paul, to parents James Reffell and Isabella Macload. They had been married at the same church the previous September. When he was 14 he was bound (apprenticed) as a waterman which usually lasted for seven years. However he was not freed (that is ended his apprenticeship) until he was aged 23 in 1807, due to being conscripted into the Royal Navy. He served as an ordinary sailor on HMS Defence under Captain Hope at the Battle of Trafalgar on 21 October 1805, and then transferred to HMS Kent in December 1805. He was discharged in March 1806 to resume his apprenticeship.
James married Mary Ann Waghorn (1783-1833) at the church of St Saviour Southwark on 14 February 1809 and her surname was to be reflected as a child's middle name for many generations to come. They moved down river to Bermondsey and had six children, all three boys (James John, Henry & William) who made it to adulthood were to be apprenticed as watermen, either to their father or to their uncle, James was to be married three times. James's brother Emanuel. Similarly, all four of Emanuel's boys (Emanuel, James John, George Bush & Henry William) were apprenticed as watermen. Both families' children were baptised at the church of St Mary Magdalen. These two families lived in and around George Street Bermondsey, very close to the river and their trade which was often long and arduous in all weathers.
In 1822 James wrote to his old captain (now an Admiral) Hope to request help with getting his eldest son James John into the Greenwich Hospital School, known up to the previous year as the Royal Naval Asylum. This organisation could trace its origins back to Queen Mary II in 1689 and in the 1820s was taking up to a thousand children from naval families. The spectacular buildings are now the Old Royal Naval College and used as part of the University of Greenwich campus. The Royal Hospital School moved to Holbrook Suffolk in 1933 and still exists as a welfare foundation that supports seamen and their families, to the extent of some £3.5 million a year.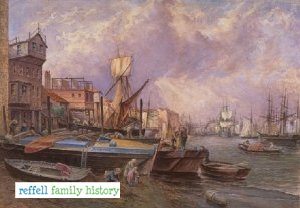 The term waterman was originally applied specifically to those who rowed the ferries across the river Thames in the days before many bridges were built across it. It is also used as a more general term for the lightermen, who were employed to 'lighten' the cargo boats of their wares before the days of the big docks and ships had to moor in the Thames for unloading. A twenty hour day was not uncommon, and for lightermen much of the time could be spent rowing the lighters from ship to shore and back again. Up to fifty tons of cargo were carried at one time.
Having served an indentured apprenticeship, lightermen and watermen not unnaturally considered themselves 'one up' from other river occupations such as the dockers and stevedores. This was reflected not only in their pay, but also in their dress as well. They were also famous for their notoriously foul language, despite the strenuous efforts of the Company of Watermen & Lightermen to stamp down on the swearing.
James died in 1842 at Bermondsey aged 58, and was buried at St James Bermondsey on 31 May. Within a generation of his passing there was no one within the family who was a waterman.
The apprentice records of the Company of Watermen & Lightermen of the River Thames are in the London Guildhall Library.