94th Siege Battery, Royal Garrison Artillery
Died of wounds on Sunday 23 June 1918, aged 33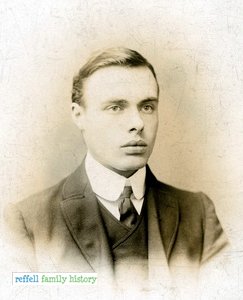 Personal Information:
Charles Henry was born 1 March 1887 at Mile End to parents Henry Charles (Carl Heinrich) Schnaar (1845-1887) and Margaret Sheffner (1841-1914). They had both been born in Germany and moved to London around the 1870s. He was baptised 30 March 1887 at St Philip Stepney.
He married Elizabeth Amy Lawrence on 26 May 1912 at St Luke Lewisham, and was the son-in-law of Elizabeth Lawrence nee Reffell. They had two children; Charles Herbert (1912) and Leonard George (1916).
Historical Information:
When he enlisted on 10 December 1915 at Deptford he was living at 26 Cottesbrook Street New Cross and was aged 28 years & 284 days. His civilian occupation was stated to be a tinplate varnisher and was originally allocated to the 7th (TF) Artillery Training School as a driver.
He departed from Southampton on 1 October 1916 and arrived at Havre two days later, joining the 25th Heavy Battery. From November 1916 to January 1917 he was in hospital with mumps. He joined the 94th Siege Battery in April 1917 and was again in hospital during June of that year. He had home leave during November 1917. During his time in the forces he sent many letters & postcards home, some of which are still treasured by his family. The following items were returned to his widow; letter, photograph, pocket book, religious medallions, religious books, purses, Kings tobacco box, horseshoe, brooch, monograms, coins, wallet and a belt.
He was awarded the Victory & British War Medals and Elizabeth Amy was awarded a war pension of 25s per week in 1918.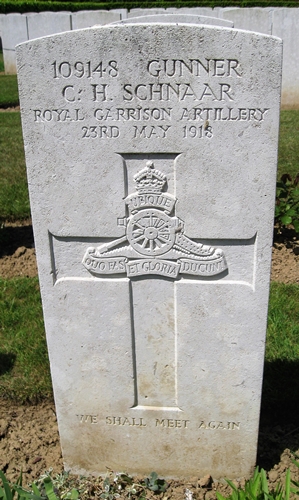 Cemetery:
Grave 1 B19 Franvillers Communal Cemetery Extension, Somme, France
The Communal Cemetery at Franvillers was used at intervals from May 1916 to May 1918 and contains only eight Commonwealth burials of the First World War. The adjoining Extension was used from April to August 1918 by units and field ambulances engaged in the defence of Amiens, and contains 248 Commonwealth burials of the First World War as well as five German graves.
Many thanks go to Colin Schnaar for the photograph and personal details of his grandfather.