186th (Howitzer) Battalion Royal Field Artillery
Died Wednesday 7th March 1917 aged 23
Personal Information:
Alfred George Armfield was born at 14 Rudford Road Rotherhithe in 1894 and baptised at St. Katherine Rotherhithe on 6 March that year. He was the eldest son of Frederick James Armfield (1868-1942) and Lily Mumford (1870-1959) who lived at 242 Lower Road Deptford Park. He was the brother of Albert George Armfield (1896-1983) who was married to Annie Isabelle Reffell (1895-1958) in 1921 at St. Barnabas Rotherhithe. He also had a sister Florence Lilian Armfield (1905-2003).
He was awarded the Victory & British War medals.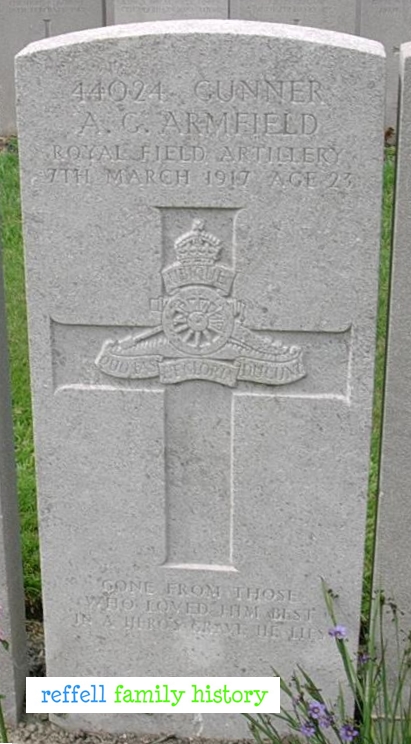 Military Information:
The 186th (Howitzer) Battalion formed in August 1915, moving to France the following year.
Cemetery:
XI B 26 Lijssenthoek, West-Vlaanderen, Belgium
Lijssenthoek Military Cemetery is located in the Ypres Salient on the Western Front and after Tyne Cot, it is the second largest cemetery for Commonwealth forces in Belgium. It is located near Poperinge in the province of West Flanders. Most of those buried in the cemetery are war casualties who had been wounded near Ypres and later died in the four large Allied casualty clearing stations located in this area.