'A' Battery, 95th Brigade, Royal Field Artillery
Killed in action on Sunday, 24th March 1918, aged 19
Personal Information:
Fitzroy Alfred Reffell was born on 28 January 1899 in St George Hanover Square, the eldest son of William Alfred Reffell (1877-1944) and Ethel Elizabeth Dawson (1877-1946). In 1911 his father was a taxi driver and the family lived at 24 Sutherland Street Belgravia. He was unmarried and awarded the 1915 Star, the Victory Medal and the British War Medal.
Historical Information:
The 1918 Spring Offensive or Kaiserschlacht (Kaiser's Battle), also known as the Ludendorff Offensive, was a series of German attacks along the Western Front which marked the deepest advances by either side since 1914. The Germans had realised that their only remaining chance of victory was to defeat the Allies before the overwhelming resources of the United States would be deployed later that year. They also had the advantage of nearly 50 divisions freed by the Russian surrender.
On 21 March 1918, the Germans launched the last major offensive against the British Fifth Army. By the end of that day the British had lost nearly 20,000 dead and 35,000 wounded, and the Germans had broken through at several points. After two days Fifth Army was in full retreat. As they fell back, many of the isolated redoubts were left to be surrounded and overwhelmed by the following German infantry.
On 24 March the Germans are held back in desperate fighting round Bapaume, they crossed the Somme between Peronne and Ham, and took Nesle and Peronne. Further south they captured Guiscard and Chauny. After a few days however, the German advance began to falter, as the infantry became exhausted and it became increasingly difficult to move artillery and supplies forward to support them. On 5 April the operation was cancelled. By the standards of the time there had been a substantial advance, but it was however a Pyrrhic victory.
Memorial:
Panel 7 to 10 Pozieres Memorial, Somme, France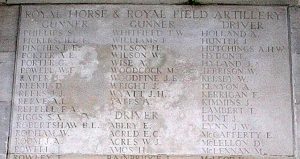 The Memorial commemorates over 14,000 casualties of the United Kingdom and 300 of the South African Forces who have no known grave and who died on the Somme from 21 March to 7 August 1918. The Corps and Regiments most largely represented here are The Rifle Brigade with over 600 names, The Durham Light Infantry with approximately 600 names, the Machine Gun Corps with over 500, the Manchester Regiment with approximately 500 and The Royal Horse and Royal Field Artillery with over 400 names.