1st Battalion, Hertfordshire Regiment, formerly 39383 Northants Regiment
Killed in action on Saturday, 23rd March 1918, aged 30
Personal Information:
Ernest David Rattle was born on 22 December 1886 at Little Blakenham Suffolk to Edmund and Ann Rattle of Ipswich.
He married Alice Mary Chalkley (1881 – 1962) in 3Q/1910 at St Albans, and lived at 12 Naseby Road Luton.
When he died he left five children aged 7, 6, 5, 3 & 1; Winifred Hannah, Irene Constance, Alice Maud Mary, Nora J and Ernest Jack.
He enlisted at Luton.
Historical Information:
On this site there were at the Armistice, three large graves of British soldiers buried by the Germans, which now form part of Plot I. The remainder of the cemetery is composed almost entirely of graves brought in from an older cemetery of the same name or from the battlefields. A large proportion were those of soldiers of the 16th (Irish) Division who fell in March 1918.
There are now over 500, 1914-18 war casualties commemorated in this site. Of these, nearly half are unidentified and special memorials are erected to 21 soldiers from the United Kingdom believed to be buried among them. The Cemetery covers an area of 1,907 square metres and is enclosed by a rubble wall.
Ste Emilie Valley Old Cemetery was a few hundred metres to the East. It was made by the 74th (Yeomanry) Division and by Field Ambulances. Ste Emilie Roadside German Cemetery (now removed) on the road from Ste Emilie to Ronssoy, was made by British troops after the Armistice and contained the graves of 791 German soldiers.
Grave:
VF 20 Ste. Emilie Valley Cemetery, Villers-Faucon, Somme, France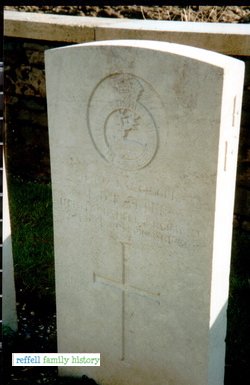 Villers-Faucon is a village about 14 kilometres north-east of Peronne, and Ste Emilie Valley Cemetery is 2 kilometres east of the village on the road between Epehy and Roisel.