2nd Batallion, The London Regiment (The Royal Fusiliers)
Died on Monday, 9th October 1916 aged 34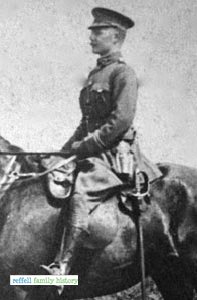 Personal Information:
Gerald Arthur Stacey was born on 26 December 1881 at Leigh Place Reigate, the only son of Arthur Stacey (1854-1886) and Gertrude Alma Attenborough (1854-1935). He had two sisters.
He married Annette Hope Neild (1884–1964) on 22 June 1907 at St. Augustine Honour Oak Kent. They had five children, including Lieutenant Harry Arthur Stacey who was killed in action on 7 November 1940 at sea.
Gerald joined the City of London Regiment during 1902 and was sent to France shortly after war was declared. He was second in command when he was killed in The Battle of Le Transloy. This was the last big attack by the Fourth Army of the British Expeditionary Force in the 1916 Battle of the Somme.
Historical Information:
Transcript of the battle of The Transloy Ridges by Major W.E Grey, 1929, The 2nd City of London Regiment (Royal Fusiliers) in the Great War (1914-1919)
Major Gerald Arthur Stacey was killed in action during operations around Lesboeufs, France on 9 October 1916, during the Battle of the Somme.
'The loss to the 1/2nd London of Major Gerald Arthur Stacey DSO was a very serious one. He was a keen and fearless officer, and he was very popular with all ranks. Major Stacey, who was a cousin of Lieut-Col. Attenborough, was born on 26 December 1881. He was an accountant by profession, and joined the 2nd London Regiment on 18th November 1902. He was promoted Captain on 25 February 1905, and Major on 21 April 1915, awarded the DSO on the 1 January 1916, and the Legion of Honour on 29 February 1916'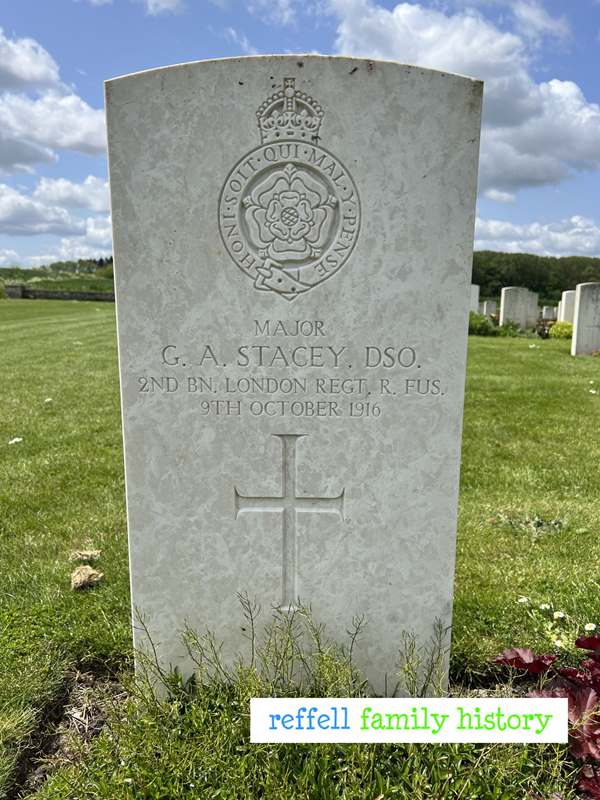 Cemetery:
I D 1 Guillemont Road Cemetery, Guillemont, Somme, France
Guillemont is a village 12 kilometres east of Albert, which was an important point in the German defences at the beginning of the Battle of the Somme in July 1916. The Cemetery now contains 2,263 Commonwealth burials and commemorations of the First World War, of which 1,523 of the burials are still unidentified.
He is also commemorated on the list of honour in St Margaret Rottingdean Sussex.
The photograph of Gerald Arthur Stacey is owned and provided by the kind courtesy of Mary Hope Trevanion & Christina Trevanion, who also provided the personal information and the transcript. The grave photograph is by Robert.