1st Battalion (City of London) Royal Fusiliers, formerly 204271 East Surrey Regiment
Died of wounds on Friday 24th May 1918 aged 21
Personal Information:
Thomas Rattle was born at Gillingham Kent in the second quarter of 1897. He was the third son of William Rattle (1860-1943) and Elizabeth Davis (1859-1938) who lived at 64 Richmond Road in Gillingham. They had married on 12 February 1882 at St Mary Magdalene in Gillingham and had six other children; William John, Albert Henry, Alice Sophia, Katie, Lizzie and James. Both parents came originally from Somerset and William's father was John Rattle from the Kewstoke branch of the Rattle family.
Military Information:
The Royal Fusiliers were also known as the City of London Regiment and raised no fewer than 47 battalions for service in the First World War, making it the fifth largest regiment at the time. Of the 235,476 Fusiliers who took part in the war 21,941 were killed.
The regiment was originally formed in 1648 as the Tower Guard and took its name from the new style musket (the fusil) which had a covered flash pan to minimise the risk of sparks igniting the gunpowder accidentally. It was also known as The Tower Regiment of Foot and it formed part of Oliver Cromwell's New Model Army.
Historical Information:
British hospitals were created on the southern outskirts of Rouen early in the war and remained there for duration. In total they included eight general hospitals, five stationary hospitals, one British Red Cross hospital and one native labour hospital, as well as a convalescent depot. A number of the dead from these hospitals were buried in other cemeteries, but the great majority were taken to St Sever, and by September 1916 it was found necessary to begin using an extension to the existing site.
The final burial in the cemetery took place in April 1920 with a total of over 8,500 graves. Added later were another 300 war casualties from the Second World War, mostly Commonwealth prisoners of war.
Cemetery:
Grave Q II D7 St Sever Cemetery Extension, Rouen, Seine-Maritime, France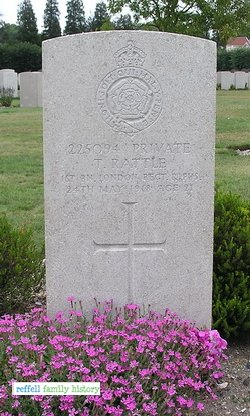 Many thanks go to Dave and Linda Deeming for their help with Thomas's background and for the photograph of his grave in Rouen.