11th Battalion, Royal Scots (The Lothian Regiment)
Killed in action on Friday, 21st September 1917 aged 35
Personal Information:
Arthur Zwimi (later Symry) Swinscoe was born on 17 November 1881 to parents Arthur Swinscoe (1850-1915) and Elizabeth Jupp (1860-1927) at 2 West Street Battersea Park Road and was baptised at St Paul Battersea on 8 January 1882. He was the eldest of four brothers and three sisters.
He married Louisa Constable on 6 August 1911 at St James Pentonville. Her elder sister Elizabeth Constable had married James John Reffell on 3 July 1892 at the same church.
In 1911 Arthur Swinscoe was still living with his parents at 22 Bemmerton Road Islington and was working as a cellerman to a wine merchant. He enlisted at Stratford, East London.
Historical Information:
The 11th (Service) Battalion of the Royal Scots was formed at Edinburgh in August 1914. They landed at Boulogne on 11 May 1915.
Memorial Information:
Tyne Cot is the largest British war cemetery in the world, with 11,871 graves of which around 70% are unidentified. This is the result of the vile Passchendale mud that sucked into its morass any means of identity. On a large screen wall around the rear perimeter of the cemetery are the names of a further 35,000 who died in the area and have no known grave.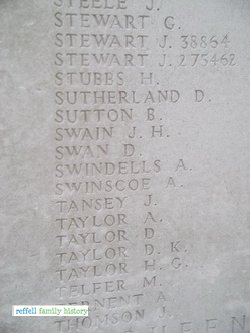 Memorials:
1) Panel 11 to 14 and 162 Tyne Cott Memorial, Zonnebeke, West Vlaanderen, Belgium

2) War Memorial, Central Park, East Ham, London
The War Memorial in Central Park East Ham was dedicated on 10 July 1921 and was unveiled by General Lord Horne GCB, KCB, ADC. It was designed by R Banks Martin.