12th Battalion, Royal Irish Rifles
Killed in action on Thursday, 6th June 1918, aged 18
Personal Information:
George Quinlan was born in 1900 in Battersea. The fifth son of Frederick Quinlan (1863-1933) and Amelia Saberton (1864-1919). His grandmother was Mary Ann Reffell (1833-1923) and was a first cousin of Edward Leonard Quinlan(d). He was not married.
Little is known about his military history as few records appear to have survived. Although the surname may be Irish in origin, there is no obvious reason why he should have enlisted into the Royal Irish Rifles.
Grave:
Lijssenthoek Cemetery, West-Vlaanderen, Belgium XXVIII F1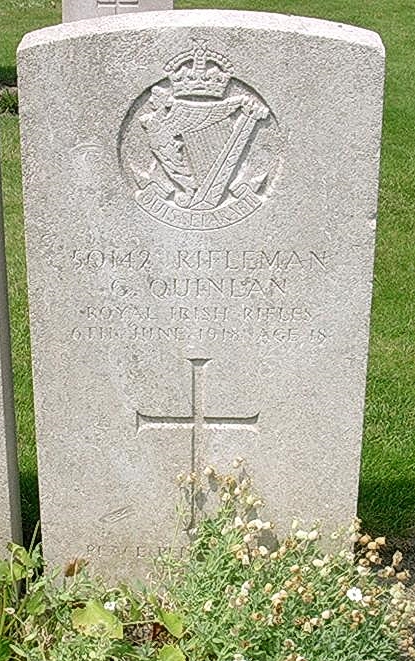 During the First World War, the village of Lijssenthoek was situated on the main communication line between the Allied military bases in the rear and the Ypres battlefields. Close to the Front, but out of the extreme range of most German field artillery, it became a natural place to establish casualty clearing stations. The cemetery was first used by the French 15th Hopital D'Evacuation and in June 1915, it began to be used by casualty clearing stations of the Commonwealth forces.
From April to August 1918, the casualty clearing stations fell back before the German advance and field ambulances (including a French ambulance) took their places.
The cemetery contains 9,901 Commonwealth burials of the First World War, 24 being unidentified. There are 883 war graves of other nationalities, mostly French and German, 11 of these are unidentified. There is 1 Non World War burial here. After Tyne Cot, it is the second largest cemetery for Commonwealth forces in Belgium.