16th Battalion, Royal Scots (Lothian Regiment) Formerly Royal Field Artillery
Killed in action on Tuesday, 16th April 1918, aged 20
Personal Information:
James Henry Rattle was born during 1897 at Battersea. He was the second son of James Kirk Rattle (1861-1921) and Helen Augusta Rogers (1860-1923). He had two sisters and three brothers and in 1911 they were living at 160 Stewart's Road Battersea. He enlisted in London early in the war during 1914. He was the nephew of Harry Rattle who also died in Flanders on 10 November 1917 and is commemorated on the Menin Gate Memorial.
Historical Information:
The Edinburgh Service Battalions
Three service Battalions were raised in Edinburgh; 15th September 1914, 16th December 1914, and 17th February 1915. The 15th and 16th were assigned to the 34th Division and the 17th to the 35th Infantry Division, and moved to France in early 1916. They first saw action on the first day of the Somme and all three spent the remainder of the war on the Western Front. The 15th and 16th were reduced to cadres in May 1918 and disbanded in August; the 17th was based in Belgium after the armistice and provided internal security in early 1919, before being reduced to a cadre in April and disbanded shortly afterwards.
16th (Service) Battalion (2nd Edinburgh)
December 1914: Formed at Edinburgh in by Lieutenant-Colonel G McCrae MP
June 1915: moved to Ripon and attached to 101st Brigade 34th Division
September 1915: moved to Sutton Veny
8 January 1916: Landed at Le Havre
16 May 1918: reduced to cadre strength after suffering heavy casualties
17 May 1918: attached to 39th Division
14 August 1918: disbanded in France
The German Spring Offensive – Kaiserschlacht (Kaiser's Battle)
The Battle of the Lys or the Fourth Battle of Ypres (to the Germans it was Operation Georgette) was fought from 7 to 29 April 1918 as part of the German spring offensive in Flanders. It was originally planned with the objective of capturing Ypres, then force the British forces back to the Channel ports and out of the war, before the build up of the American forces. The German Army launched four more offensives between April and July that were ultimately unsuccessful.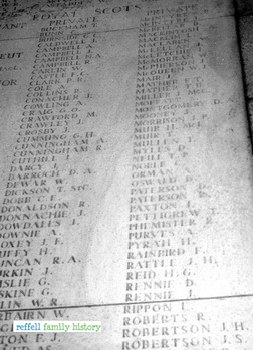 Memorial:
Panel 1 Ploegsteert Memorial to the Missing, Comines-Warneton, Hainaut, Belgium.
The 'Plugstreet' memorial commemorates more than 11,000 servicemen of the United Kingdom and South African forces who died in this sector during the First World War and have no known grave. It was unveiled on 7 June 1931 by the future King Leopold III of Belgium.
This area was the site of fierce fighting at the start of the war, but then it became a relatively quiet sector where no major action took place until the later stages of the war. Most of those commemorated by the memorial did not die in major offensives, usually during the day-to-day trench warfare which characterised this part of the line.