HM Oiler Rapidol, Royal Fleet Auxiliary
Died on Sunday, 17th August 1919, aged 20
Personal Information:
Edward Lawrence Mandell was born in Canning Town during 1899. He was the second of four sons and one daughter of Alfred John Mandell (1867-1953) and Emily Annie May (1872-1952) who were married at St Gabriel Chrisp Street Poplar on 5 June 1892. Established in 1873, it was bombed during the Second World War and the building was subsequently demolished.
Alfred John Mandell was born in Waikato New Zealand on 16 August 1867, the son of John Mandell (-1879) and Elizabeth Sarah Reffell (1832-1898). In 1901 was living at 74 Malmesbury Road Canning Town and was a stoker on a steam tug. In later life he became a stevedore in the docks.
Edward Lawrence's elder brother George Henry Mandell was killed in the Second World War at sea.
Historical Information:
HM Rapidol RFA was an oiler/tanker of the Belgol class, and was launched on 23 April 1917. Edward Lawrence had signed onto the Rapidol on 3 December 1918. He died on 17 August 1919 at Tendra Bay, a shallow bay off the coast of Ukraine in the Northern Black Sea..
Cemetery:
Haidar Pasha Cemetery, Istanbul, Turkey
Grave I F 20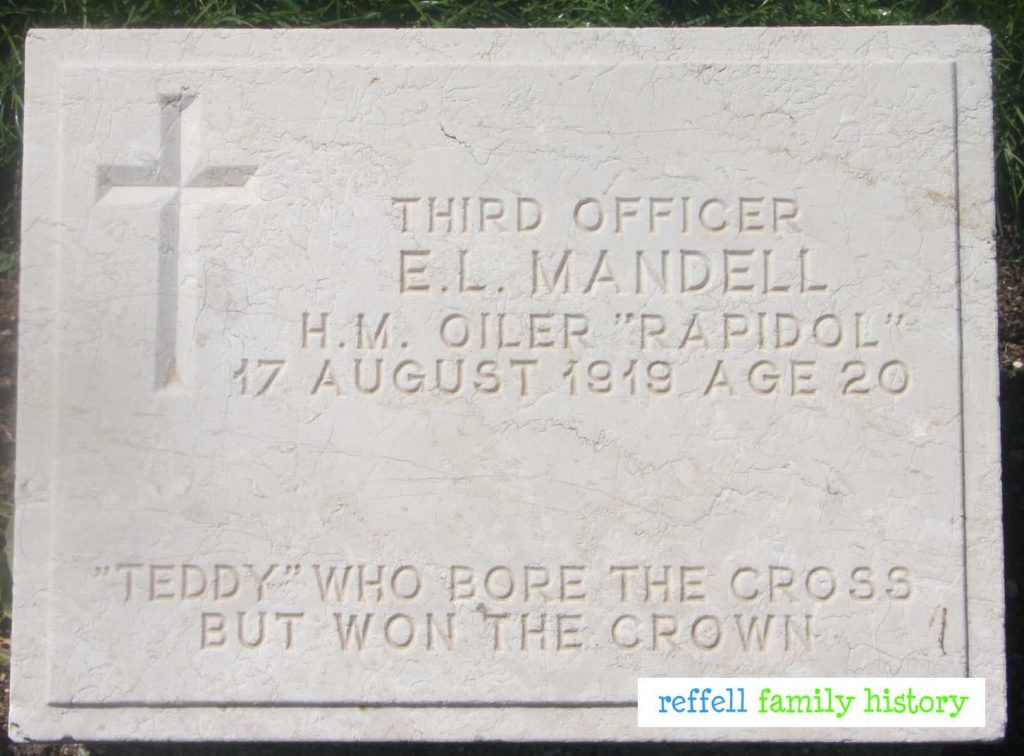 Haidas Pasha was given by the Turkish Government to the British Government in 1855 and contains about six thousand graves of the Crimean War. During the First World War the cemetery was used by the Turkish forces for the burial of Commonwealth prisoners of war. In addition, 119 graves were brought in from the following smaller cemeteries:- Bostandjik Muslim Cemetery, Eregli Armenian Cemetery, Ferikoi Protestant Cemetery, Ismid Latin Catholic Cemetery, Karaman Cemetery, Kars British and Russian Cemeteries, Mashlak Muslim Cemetery, Osmanieh Muslim Cemetery, Prinkipo Roman Catholic Cemetery and San Stefano French Cemetery.