2/3rd Motor Ambulance Company, Australian Army Service Corps
Died of illness on Wednesday, 2nd May 1945, aged 41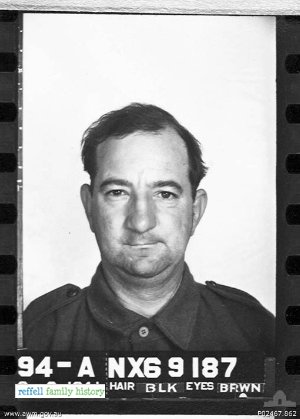 Personal Information:
Born 1903 Sydney, New South Wales, Australia. Son of Farnham Albert and Emily Eliza Jones, of Sydney, New South Wales, Australia
Historical Information:
Driver Albert Farnham Jones was one of over to thousand Allied prisoners of war (POW) held in the Sandakan POW camp in north Borneo, having been transferred there from Singapore as a part of B Force.
The one thousand four hundred & ninety four POW's that made up B Force, were transported from Changi on 7 July 1942 on board the tramp ship Ubi Maru, arriving in Sandakan Harbour on 18 July 1942.
After three years in captivity, Albert died as a prisoner of the Japanese aged 41 and has no known grave.
Memorial Information:
The Labuan Memorial was primarily intended to commemorate the officers and men of the Australian Army and Air Force who have no known grave. They died while prisoners of war in Borneo and the Philippines from 1942 to 1945, and also during the 1945 operations for the recovery of Borneo. Subsequently it was found that a number of men belonging to the local forces of North Borneo, Sarawak and Brunei who were killed on war service also have no known grave, and they too are honoured here. Some of those whose names appear on the memorial are undoubtedly buried in unidentified graves in this cemetery.
The photograph of Albert Farnham Jones is provided by courtesy of the Australian War Memorial.
Memorial:
Panel 22, Labuan Memorial, Labuan, Brunei Bay, Malaysia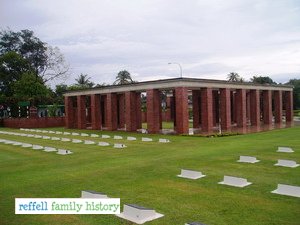 The Memorial consists of a colonnade forming a forecourt immediately inside the wrought iron gates of the main entrance to the cemetery. On the inner faces of the pillars are bronze panels on which are engraved the names of those whom it honours, and the dedicatory inscription given below is on the frieze facing the entrance: HEREON ARE RECORDED THE NAMES OF OFFICERS AND MEN OF THE BRITISH COMMONWEALTH OF NATIONS WHO DIED WITHIN AND AROUND BORNEO DURING THE 1939-1945 WAR AND WHOSE GRAVES ARE KNOWN ONLY UNTO GOD.