1st Battalion, Welsh Guards
Died on Friday, 4th August 1944 aged 19
Personal Information:
Robert John Martin was born on 1 June 1925 in Bridgend, the eldest son of Walter Reginald Martin (1891-1964) and Florence May Reffell (1903-1977), who were married in Bridgend during 1923. Florence was the granddaughter of Henry Joshua Reffell (1860-1947) who moved from London to Wales around 1885.
Historical Information:
The Regiment was the last of the five Foot Guards Regiments to be formed, only coming into existence in 1915. The Welsh Guards were increased to three battalions during the Second World War, and the 1st Battalion fought in all the campaigns of the North-West European Theatre.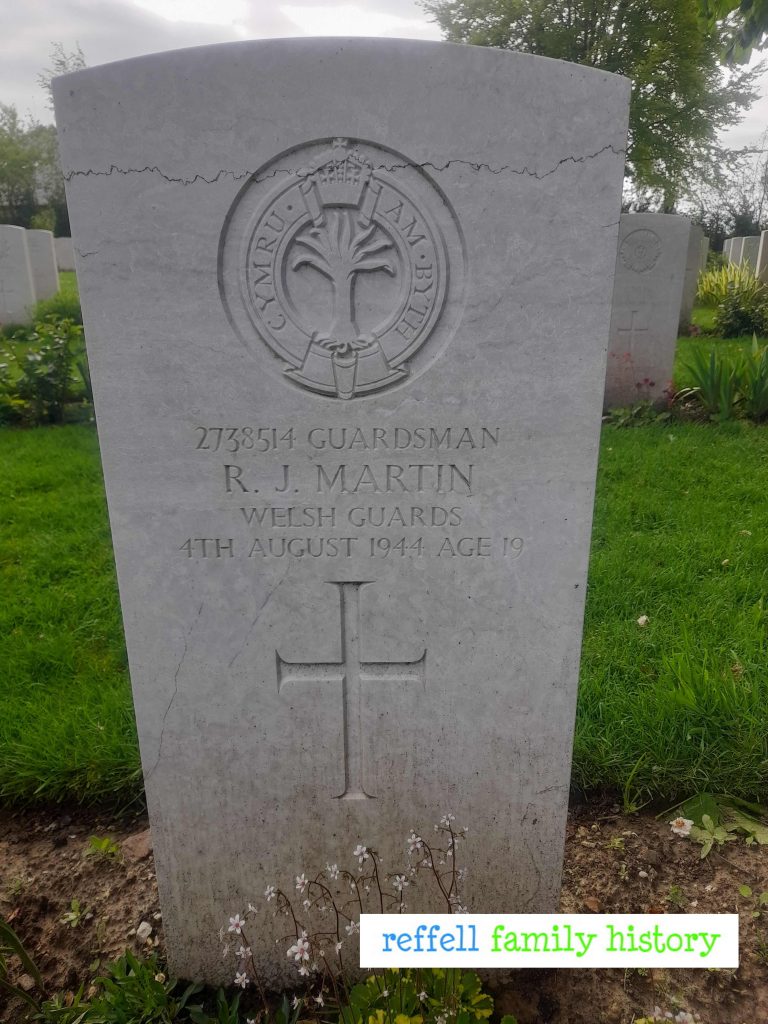 Cemetery:
XX C14 Bayeux Cemetery, Bayeux, Calvados, Basse-Normandie, France.
The town of Bayeux in Normandy, lies 30 kilometres north-west of Caen. Bayeux War Cemetery is situated in the south-western outskirts of the town on the by-pass, which is named Boulevard Fabian Ware. On the opposite side of the road stands the Bayeux Memorial. In this cemetery lie 4,258 casualties from the Second World War.
Photograph by kind courtesy of Aurélie & Sloan Quoturel