H M Illustrious, Royal Navy
Died on Wednesday, 10th January 1941 aged 39
Personal Information:
Born 3Q/1902 Clerkenwell, son of Arthur John Kerby (1883-) and Alice May Bray (1881-1902). After Alice's premature death, to look after his young son Arthur married Mary Ann Emma Milton (1885-1919) on 21 May 1905 at St. Mark Shoreditch. He had married Gladys Mary Meredith (1903-1975) during 1923 at Stoke Damerel Devon. He was the nephew of Albert Edward George Kerby (1894-1956) and Louis Jane Reffell (1896-1975).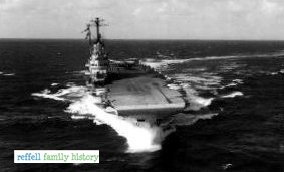 Historical Information:
HMS Illustrious was an aircraft carrier which saw service in World War II, the fourth Illustrious of the British Royal Navy. She was built by Vickers-Armstrongs at Barrow-in-Furness, launched in 1939, and commissioned in May 1940. She displaced 23,000 tonnes and had the capability to carry up to 36 aircraft, a number greatly reduced by her armoured deck. Perhaps predictably, she was nicknamed 'Lusty' by the men who served on her.
On 10 January 1941 HMS Illustrious was attacked while escorting a convoy east of Sicily by Axis Savoia-Marchetti SM.79 and Ju-87 Stuka dive-bombers. She was hit by eight bombs and suffered extensive damage, destroying her sick bay and ward room. While in Malta receiving repairs for her battle damage she was again bombed, flooding her boiler room. On 23 January she sailed to Alexandria Egypt for temporary repairs arriving at noon on 25 January, and then sailed to Virginia for permanent repairs at the safer Norfolk Navy Yard. One propeller shaft had to be cut away and her speed fell to 23 knots. She returned to service in May 1942 and was immediately dispatched to the Indian Ocean.
Memorial:
Panel 49, Column 1; Chatham Naval Memorial