17th Battalion, Middlesex Regiment
Died on Sunday, 6th August 1916 aged 19
Personal Information:
William Frederick Keirle was born in Forest Hill South London during 1898, the first son of Frederick Robert Keirle (1864-1949) and Mary Elizabeth Pym (1863-1948) of 62 Malham Road, Forest Hill.
The 17th (Service) Battalion, Middlesex Regiment was an infantry battalion of the Middlesex Regiment, part of the British Army, which was formed as a Pals battalion during the Great War. The core of the battalion was a group of professional footballers, which was the reason for its most commonly used name, The Football Battalion and was formed at Fulham Town Hall in December 1914. It consisted of professional and amateur footballers, plus some supporters and quickly grew with players from Portsmouth, Crystal Palace and Chelsea.
The ranks of the 17th Middlesex were further swelled by numerous amateur players, officials and football fans eager to serve alongside their favourite players. Special recruiting posters were displayed at grounds of London clubs, specifically aimed at the home supporters. A Millwall supporter would thus find himself being exhorted to 'Let the enemy hear the 'Lion's Roar''.
It left for the War after training in November 1915 and played a number of matches as well as fighting the enemy. In July 1916, the 17th Middlesex entrained for the Somme, where the was involved in heavy fighting at Delville Wood (27–29 July) and Guillemont (8 August). These actions exacted such a toll on the 17th Middlesex that a draft of 716 men was needed to bring it back up to strength. By the end of the conflict the regiment had lost more than a thousand men.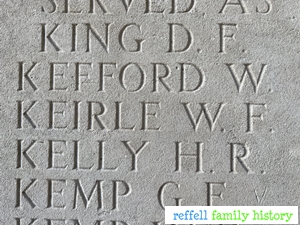 Memorial:
Pier and Face 12 D and 13 B Menin Gate Memorial, Ieper, West-Vlaanderen, Belgium.