Royal Naval Volunteer Reserve
Died on Tuesday, 22nd October 1943 aged 20
Personal Information:
Robin Pendennis Alexander was born on 9 February 1923 in Falmouth, the youngest son of Harold Anderson Alexander (1883-1961) and Ruby Lillian Reffell (1882-1975), who were married on 29 June 1910 at Christ Church South Nutfield. He was the grandson of William Robert Reffell (1855-1948) and Mary Annie Graham Parker (1859-1939).
During the First World War, his father Harold was a major in the Royal Engineers. Having joined the railways in 1899, he retired in 1949 as the Divisional Engineer at Bristol on the Western Region of the newly-nationalised British Railways. Robin's elder brothers Graham Charles, Jocelyn William Maxim and Bryan Anderson Alexander all served in Burma at the same time.
Historical Information:
Robin Pendennis Alexander was killed when his Swordfish Mk 2 serial HS638 ran out of fuel whilst out on patrol and the aircraft ditched into the sea. Also killed were pilot Sub Lieutenant Donald Munroe MacKenzie (son of Donald Munro and Marianne Mackenzie of Glasgow) and Leading Airman William David Ward (son of Frank Alfred and Lenora Ward of Hounslow).

They were part of 836 Squadron based on the aircraft carrier Empire MacAndrew, a MAC (merchant aircraft carrier) converted from a grain ship with a flight deck added, and used for North Atlantic convoy protection. Launched in 1943, she returned to merchant service after the war and was scrapped in China during 1970. On this date she was part of Convoy HX262 which left New York on 18 October 1943 and arrived in Liverpool on 2 November.
In March 1943, 836 squadron had transferred to Machrihanish (near Cambeltown in Argyllshire) to become an Operational Pool increasing to 27 Swordfish and 2 Walruses in August 1943. Subsequently after the Walruses had been discarded the squadron was given primary responsibility for all MAC flights, who assigned 3 or 4 Swordfish aircraft to each ship. The squadron was divided into Flights as sub-units and Robin's crew were part of V Flight.
Memorial:
Bay 4 Panel 27 Lee-on-Solent Memorial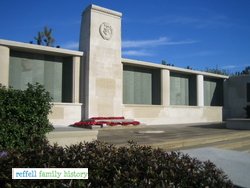 The principal base of the Fleet Air Arm at Lee-on-Solent Hampshire, was chosen as the site for the memorial to almost 2,000 men of that service who died during the Second World War and who have no known grave.
The service information comes from a number of sources, including 'Fleet Air Arm Aircraft 1939 to 1945' by Ray Sturtivant. Many thanks go to Kiran for his invaluable help with these sources.