The Canadian National Vimy Memorial is one of Canada's most important overseas war memorials. It is dedicated to those Canadians who gave their lives during the First World War, and is one of eight Canadian First World War memorials in Europe. Inscribed on the ramparts of the memorial are the names of the Canadian soldiers who were posted "missing, presumed dead" in France. The memorial is located on the former battlefield of the Battle of Vimy Ridge in the Canadian National Vimy Memorial Park, near Vimy, France. In 1922,the land for the battlefield park which contains the memorial was granted in perpetuity, in recognition of Canada's war efforts. The park is still honeycombed with wartime tunnels, craters and trenches, many of which can be visited, although some are still closed to the public for safety.
Construction of the memorial commenced in 1925 and took eleven years. The official unveiling by Edward VIII was on 26 July 1936, in one of his few official duties during his short reign. The names of the 11,285 Canadian soldiers who died in this area of France and have no known graves are carved on the memorial. The names of those who died in Flanders are on the Menin Gate.
The two main pylons of the memorial represent Canada and France and rise thirty metres above the main platform. Various stone sculptures were created by Canadian artists to the symbolism of remembrance. Plaster copies of many of the sculptures are on display in the National War Museum in Ottawa.
Early during the Second World War, Adolf Hitler toured the Vimy Memorial and its preserved trenches. He had been twice decorated for bravery as an infantryman during the Great War and saw combat in the general vicinity. Whilst the German leader had no qualms about destroying culturally significant locations in France including many French war monuments, the Vimy memorial carried no messages of triumph over Germany. As a result the monument was mostly protected throughout the war.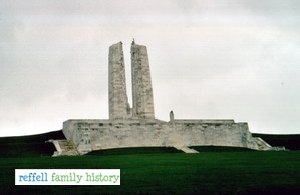 The photographs above were taken by John Reffell in August 1997. Since then the memorial has benefited from a substantial clean and is now much more resplendent in brilliant white than in these photographs.