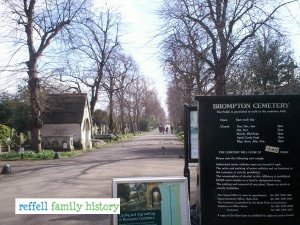 The Brompton Cemetery was one of the 'Magnificent Seven' Cemeteries of London. Originally the West of London & Westminster Cemetery founded in 1837, as can be seen carved over the Fulham Road entrance. The Board of Directors was authorised to develop a 40 acre site, which contained a chapel and catacombs. Benjamin Baud designed a formal layout that includes a chapel based on St. Peter's Basilica in Rome. The land occupied by cemetery was originally fields and market gardens owned mostly by Lord Kensington and finally acquired from him in 1839. An additional 4.5 acres was obtained in 1844 from the Equitable Gas Company, enabling the cemetery to have access to Fulham Road. The cemetery was bought from the private owners in 1852 by London's General Board of Health and then became the first London cemetery under government control. Brompton Cemetery is now managed by The Royal Parks Agency, and somewhat surprisingly burials and the placing of cremated remains are still carried out.
It has a central avenue leading to an octagonal chapel with flanking colonnades; catacombs run under the colonnades and along the west wall. A formal grid of paths divides the cemetery into referenced plots. Around 205,000 burials have been recorded with an estimated 35,000 headstones; the records and plans are stored in the chapel. There is relatively little remaining space and few burials now; mourners are gradually being replaced by a public who come for study, research and amenity. As with many urban cemeteries and churchyards, Brompton Cemetery is rich in wildlife.
One of the most famous residents here is Emmeline Pankhurst (1885-1928), the fearless campaigner for the rights of women. One can often see purple, white and green bouquets left at Emmeline's grave on the Central Avenue, the distinctive colours of the Women's Social and Political Union (WSPU).
Other notable burials here are Richard Tauber (1891-1948) one of the world's finest tenor singers, Frederic Sullivan (1837–1877) the brother of Sir Arthur Sullivan, John Wisden (1826-1884) first class cricketing champion and founder of Wisden's Almanack and Sir John Fowler (1817-1898) the designer of the London's first underground railway and the Forth Bridge.
There are also 2,625 largely unmarked graves of members of the Royal Hospital Chelsea, better known as the Chelsea Pensioners. Another military connection is the existence of the graves of 12 Victoria Cross holders.
Those known to have been buried here:
Henry Hatch Reffell, age: 49, burial date: 10 April 1860
George Reffell, age: 18, burial date: 20 November 1860
Rebecca Reffell, age: 56, burial date: 23 April 1864
Charles Joseph Reffell, age: 30, burial date: 26 February 1869