Henry Hatch Reffell (1811-1860)
Henry Hatch was born on the 1 March 1811 to parents Joseph Reffell & Elizabeth Hatch and was baptised at St. Marylebone eighteen days later. Little is currently known about Henry Hatch's early life, no record has been found of any brothers or sisters. By the time that Henry Hatch was 18, his parents had moved out to Shepherd's Bush where Joseph became the landlord of the Beaumont Arms public house in the Uxbridge Road. Henry Hatch Reffell married Rebecca Burchatt at a church that was to be at the centre for the rest of their lives; All Souls Church in Langham Place. Eight of their nine children were baptised there.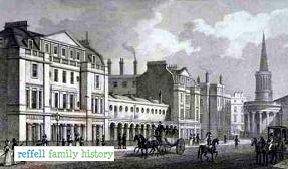 Photography did not develop until the latter part of the century, so unfortunately there are no photographic records of Henry Hatch and his young family. However, there are many drawings and paintings that can be used to visualise his life and times. The area he lived in was very busy, being a main thoroughfare between the centre of the West End and the rapidly developing areas to the north and west. During Henry Hatch's time would have been crowded with horse-buses, private vehicles and horse-cabs. The noise smells, and bustle can be imagined from the scene on the left (All Souls Church can be seen on the right hand side of the picture. Today this view would be dominated by the BBC's Broadcasting House). Henry Hatch's shop at 14 Great Portland Street would have been stocked with a multitude of reading and writing goods.

The London Post Office Directories of 1846, 1847, 1848 and 1853 show that he was a stationer, bookseller, binder and newsagent. However, he gave this line of work up to become a bar steward and died at the age of only 49. Henry's final resting place was the Brompton Cemetery, where Rebecca joined him almost exactly four years later. There is no surviving headstone. They both died of Bronchitis, as did their youngest child Ovid, a symptom perhaps of the unhealthy state of London at that time. Their nine children were:-
Eldest daughter Elizabeth Rebecca married jeweller Ernest Etienne Magloire Masset in All Souls Church. Their first daughter was baptised as Leonie Mary Ann Ernestine Masset in the same church. There was also a second daughter Louise Josephine Jemima Masset.
Eldest son Henry married Sarah Morton from Leeds. Henry was a commercial clerk and lived for many years in Kentish Town.
Mary Ann was known as Polly, she did not marry and lived to be 85 years old.
George who died young aged 18 of Dropsy. He is also buried at Brompton Cemetery, but not with his parents.
John William married later in life to Mary Ann Jones from Somerset. He was a horse cab driver who lived near the stables just off of the Edgware Road in Paddington.
Susan Matilda did not marry, lived in Caterham together with Polly and also lived to be 85 years old.
Charles Joseph also did not marry. He died aged 31 and was buried together with his mother and father in Brompton Cemetery.
Edward married Londoner Emily Louisa Fenlon, always known as Minnie. Edward was a tramcar conductor and lived in Peckham.
Sadly, finally there was little Ovid, who also died of Bronchitis aged just 7 months. He was probably named in honour of an uncle, Ovid Topham.
Personal Information:
Father: Joseph Reffell (1786-1862)
Mother: Elizabeth Hatch (1784-1864)
Born: 1 March 1811
Baptised: 19 March 1811at St. Marylebone
Married: Rebecca Burchatt (1807-1864) on 3 May 1835 at All Souls, Langham Place
Died: 3 April 1860 at 13 Langham Street aged 49
Buried: 10 April 1860 at Brompton Cemetery, Fulham Road