Joseph Reffell (1786-1862)
Joseph Reffell was born in 1786 to John Reffell and Ann Burchatt and was baptised on 30 June at the church of St James Shere. Despite being born in Surrey, around the turn of the century he travelled to Devon. which was at a time that pre-dates railways in the county. Whilst he was there he met Elizabeth Hatch from Rattery.

Joseph married Elizabeth on 4 April 1810 at the church of St Mary Totnes. He then brought his new wife back to Surrey and then moved onto London where they stayed for the rest of their lives. Their only child, Henry Hatch Reffell was born on 1 March 1811 and baptised at St Marylebone on 19 March 1811. After their marriage, Joseph became the licensed victualler (landlord) of the White Horse in Shere between 1815 and 1826.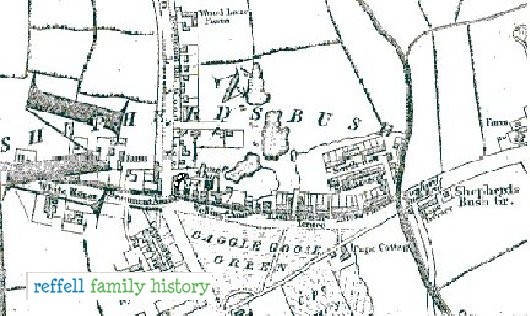 Joseph became the licensed landlord of the Beaumont Arms public house in the Uxbridge Road, Shepherd's Bush on 23 August 1828. In 1829 John Saltier, produced a map of Hammersmith which shows the Beaumont Arms in 'Gaggle Goose Green'. This area of London is now more familiarly known as Shepherd's Bush Green.

Joseph was still there in 1831, being shown in both the Hammersmith Survey of 1829 and the 1831 census. The survey of 1829 shows a rateable value of £30 on the public house, offices, stable, yard and coach house. The 1831 census for the area has survived and shows surnames of the head of household only with no addresses. A Mr Reffell is shown as having an occupation of victualler, one dwelling, and a family of one male and one female. This is thought most likely to be Joseph and Elizabeth at the Beaumont Arms.

However, it was not to last. It was reported in the London Gazette dated 16 April 1833 that Joseph had conveyed all his assets into a trust for the benefit of all his creditors; he was declared bankrupt. Joseph and Elizabeth then spent the rest of their working lives in service, in 1841 at an address in Old Oak Common and in 1851 at West Mousley in Surrey. Sadly, by 1861 they were both in the Fulham Union Workhouse, dying there on 12 March 1862 and 2 April 1864 respectively. They were both buried a few miles south of the workhouse by the river at All Saints Fulham.