Also known as All Saints Cemetery
The second largest (after Kensal Green) of the 'Magnificent Seven' Cemeteries of London, it was originally founded in 1840. Much of its 52 acres is overgrown, but in many ways it is the most attractive of all the seven.
Much of the decay is due to various proposals to build houses on certain parts of the cemetery, which almost led to closure and was only stopped when Southwark council bought the whole of it for £1 in 1975. The cemetery was reopened in 2003.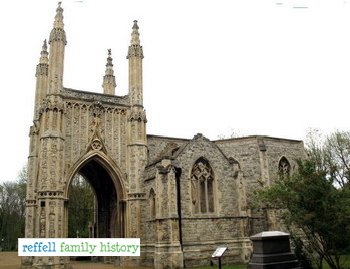 The Gothic-style chapel was designed by Thomas Little. The Friends of Nunhead Cemetery (FONC) exists to represent all those with an interest in the cemetery. The group seeks to promote the conservation and appreciation of the cemetery as a place of remembrance, of historic importance and of natural beauty.
Those known to have been buried here:
Beatrice May Abel, age: 3, burial date 1895
Sarah Abel, age: 62, burial date 1923
William John Abel, age: 46, burial date: March 1934
Robert (Bobby) Abel, age: 79, burial date: December 1936
Many thanks to Stephen Craven for the photograph of the chapel.