Robert (Bobby) Abel (1857-1936)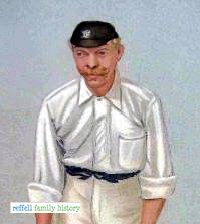 Of humble beginnings, Robert Abel was called by his many admirers 'The Guv'nor' and he was a great favourite for many years at the Oval, where he played first-class cricket for Surrey from 1881 to 1904. He also played for England from 1888 to 1902. At 5′ 4″ he was quite short and was an excellent slip fielder, but he also bowled off-spin with considerable skill. Of a serious demeanour, he possessed great patience and usually scored quickly and was very popular.
Bobby was born at 18 Commercial Street in Rotherhithe on 30 November 1857 and was the son of Thomas Abel (1814-1889), a lamplighter and dock labourer, and Elizabeth Highland (1815-1892). He attended school in Southwark and after playing cricket for Southwark Park (see below), he began his illustrious career as a professional cricketer. He first played for the Boro' Hop Trade Cricket Club from the age of sixteen, although he 'reduced' his age by two years to appear to be younger than he actually was before joining the Colts at the Oval. Eventually playing 514 matches for Surrey, he was twenty-three when he made his first-class debut on 21 July 1881, but it was to be 1886 before he was established in the Surrey side. He was one of England's most productive batsmen and was Wisden's cricketer of the year in 1890.
Bobby was married to Sarah Reffell (1861–1923) at St Martin in the Fields on 31 January 1881, the daughter of Henry William Reffell (1833-1891) and Ann Bull (1836-1902) from the Bermondsey branch of the Reffell family. Both newly-weds were local with the marriages certificate giving their addresses as numbers 7 and 22 Mercer Road. The family stayed in the area where they grew up, living in Raymouth Road, Pedworth Road and Trigon Road before moving in 1888 to a three storey house at 43 Handforth Road Kennington. Members of the family were to stay in this house for many decades, and daughter Ada Florence Abel actually lived in it for her entire life of nearly 90 years by five days. Now converted into flats, one sold in 2019 for nearly half a million pounds, with the other two selling in 2017 & 2021 in excess of £600k.
In the 1881 census Bobby's occupation is a 'hop porter', but by the 1891 & 1901 censuses he is a 'professional cricketer'. There were twelve children; Robert Henry (1882-1913), Sarah Annie (1885-1886), William John (1887-1934), George Albert (1889-), Thomas Ernest (1891-1937), Beatrice May (1892-1895), Ada Florence (1894-1984), Alfred Charles (1895-1944), Alice Emily (1897-1988), Lilian Agnes (1899-1994), Albert Ernest (1900-1977) and Violet Annie (1902-1958). Both Thomas and William were to play first-class cricket in their own time.
A sad event happened on 21 December 1895 when little three year old Beatrice May was playing with some friends in Trigon Road. For some reason she ran out into the road just as a Hanson Cab came around the corner and was knocked down and run over. She died later that evening in St Thomas's Hospital.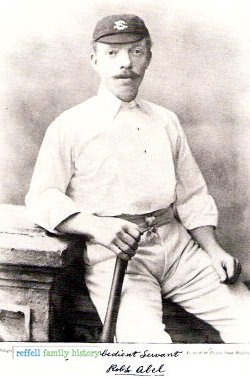 Relying on income from a season that lasts only half of a year is perilous when bringing up a large family at the best of times. Bobby was paid £220 & £320 for his involvement in two tours of Australia, however when holding out for £500 on the subsequent tour he lost out completely. This was at a time when the game was played by 'Gentlemen' and 'Professionals'. In many ways the Professionals had the worse deal as they were often paid less than the Gentlemen's 'expenses'. There were separate changing rooms, eating areas and even different entrances at the grounds. During 1896, Bobby and four others threatened to boycott the final test match of the Ashes, the 'players strike'. The main contention was that the well known WC Grace, who as an 'amateur' was allegedly earning much more than the professionals. As such a crowd draw, Grace was very leniently treated on the field as well, often staying at the wicket when he was clearly out. Unfortunately for Bobby the strike had to back down, although the events were eventually to lead to more equality. The distinction between the two was only finally abolished at the end of the 1962 season. In order to provide some extra income, Bobby started a cricket manufacturing business with a business partner at 310 Kennington Road during 1894, subsequently becoming Abel & Son.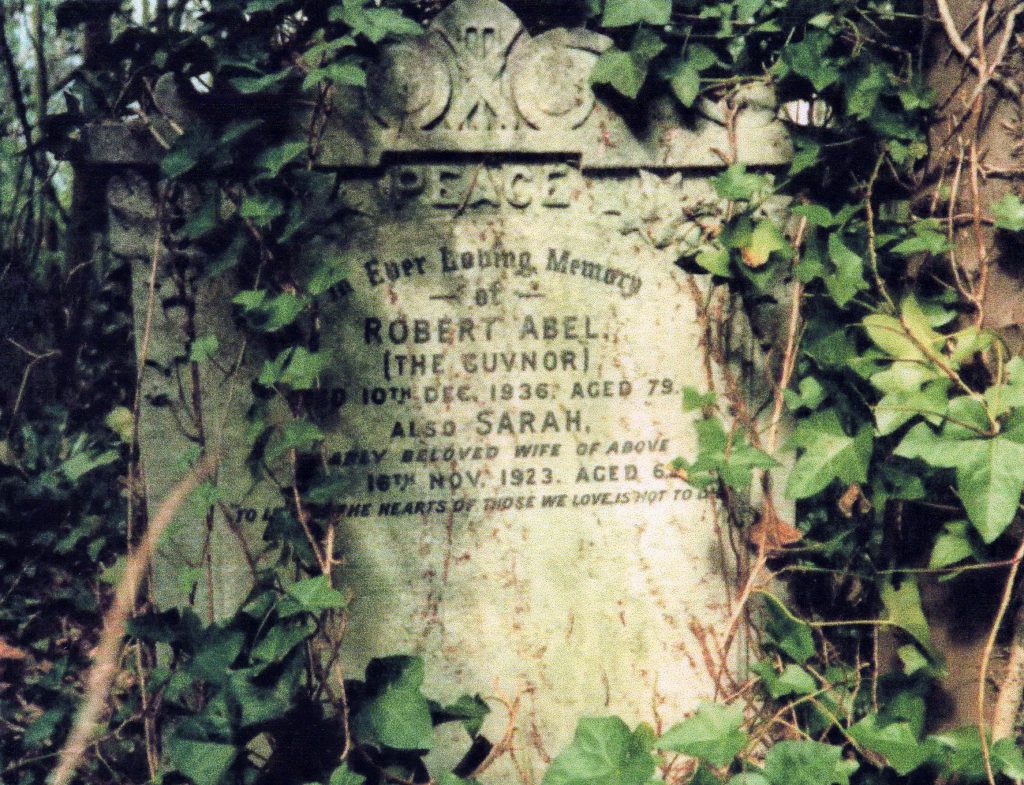 An eye problem had existed for many years, including an occasion when Bobby had been blind for five days in 1893 following a bout of diphtheria, but an infection recurred in the early 1900s, and Bobby reluctantly had to give up the game. He played his last first-class match in 1904. Sadly he eventually became completely blind. By 1902, the business of Abel & Son was on the rocks and it was sold off. Bobby was given financial assistance by his old club and well wishers until he died at 43 Handforth Road on 10 December 1936, having outlived his wife Sarah by thirteen years. His estate was valued at £864 9s 7d. He is buried with Sarah and three of their children at Nunhead Cemetery.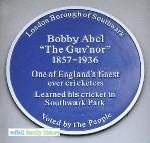 During his cricketing life, the pint sized right-hander notched up 33,124 runs at an average of 35.46 that included an incredible seventy four innings of at least a hundred runs. His highest score of 357 not out against Somerset in 1899 at the Oval was the highest score ever at the ground for nearly forty years, until it was eventually beaten by Sir Len Hutton in 1938. To commemorate the man and his achievements, a blue plaque was erected during June 2005 to Bobby at Southwark Park, where he learned to play the game as a youngster.
Many thanks go to Bobby's Great-Granddaughter Susan Price for help and assistance with his life and family. Other information comes from the 1982 book 'Bobby Abel – Professional Batsman' by David Kynaston.