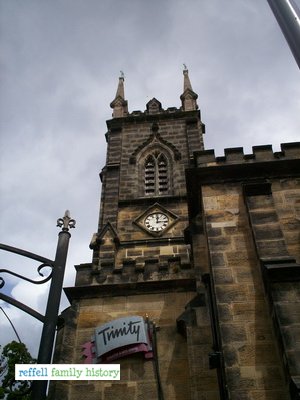 This distinctive church was built between 1827 & 1829, to serve the first parish that was created in the expanding town of Tunbridge Wells. Previously the area had been in the parish of St Peter & St Paul Tonbridge.
Holy Trinity also had the first cemetery in the town, but this was already full only twenty years later when the first burial took place at Woodbury Park Cemetery to the north of the town on 12 October 1849.
The last religious service was held during 1972 and the parish was merged with that of Christ Church in the High Street.
In 1974 Holy Trinity Church was declared 'redundant to pastoral needs' by the Church Commissioners and a draft scheme was drawn up for Holy Trinity's demolition.
Following a very vigorous public campaign, the church was saved and converted into an arts centre, opening in 1982.
Those known to have been baptised here:
Emma Reffell, baptism date: 9 January 1857
Alexander Reffell, baptism date: 20 October 1858
Edwin Alexander Warden Reffell, baptism date: 31 May 1885
Frederick Gordon Reffell, baptism date: 7 March 1890
George Stanley Reffell, baptism date: 31 May 1891
John Alfred Gordon Reffell, baptism date: 19 January 1897
Arthur Sidney Reffell, baptism date: 28 March 1897
Those known to have been married here:
Alexander Reffell and Lucy Maria Vinall, marriage date: 26 April 1884
Albert Edwin Reffell and Eleanor Jane Ellis, marriage date: 7 July 1888
William Edwin Leshley and Gladys Lilian Davies, marriage date: 19 May 1941