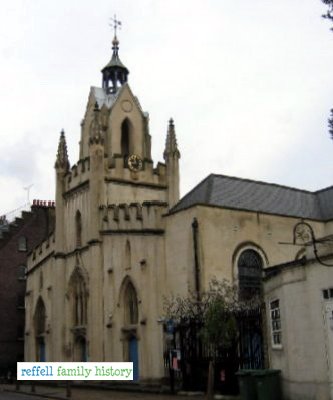 Like the other churches in the area, there is a church listed on this site in the Domesday Book, but the first known record of the church of St Mary Magdalen is in 1296, when the church appears to have served the workers in the Priory of St Saviour.
The present day church dates from the 1690s and has been considerably modified over time. Fortunately the church survived the bombing that destroyed much of the surrounding area, but it was subsequently damaged in a fire during 1971.
The present day parish incorporates within three other former parish churches: St Olave Tooley Street, St John Horsleydown and St Luke Grange Road, all three of whom have been destroyed. It should be noted that the church has always been spelt as St Mary Magdalen and not the usual spelling of Magdalene.
Those known to have been baptised here:
Henry Reffell, baptism date: 30 May 1813
Thomas Emanuel Reffell, baptism date: 29 January 1815
William Reffell, baptism date: 6 October 1816
Emanuel Reffell, baptism date: 19 December 1819
James John Reffell, baptism date: 5 January 1823
Frederick Reffell, baptism date: 16 July 1824
Charles Reffell, baptism date: 3 December 1826
George Bush Reffell, baptism date: 1 October 1828
Henry William Reffell, baptism date: 29 May 1833
Mary Reffell, baptism date: 27 August 1837
Those known to have been married here:
John Tanner and Sarah Reffell, marriage date: 14 February 1802
Those known to have been buried here:
Frederick Reffell, age: 2y 2m, burial date: 9 August 1826
Charles Reffell, age: 3m, burial date: 16 February1827