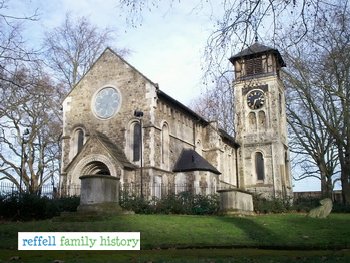 St Pancras Old Church, which was known as St Pancras Church until the St Pancras New Church was built a little over half a mile away, is believed to be one of the oldest sites of Christian worship in London. Documentary evidence for the early history of the church is scanty, but it is believed to have existed since around 314AD.
Originally it was the parish church of St Pancras, which then almost stretched from Oxford Street to Highgate. However in the 14th century the population abandoned the site and the church fell into disrepair. It lost its status as the central church of the parish when the New Church was consecrated to the south in 1822, and it then became a chapel of ease.
By 1847 the Old Church was derelict, but as the local population grew it was decided to restore it and once again services were held in it's confines. A replacement tower was built and the building was lengthened, though it still remained quite small. There have been further restorations since then, particularly in 1948 following Second World War bomb damage. Today the building is a grade II* listed building, and in the churchyard is the tomb of Sir John Soames, one of only two Grade I listed tombs in the country.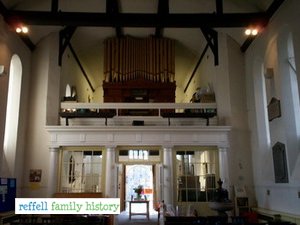 Those known to have been baptised here:
Joseph Reffell Partridge, baptism date: 7 April 1823
James Partridge, baptism date: 15 May 1825
Arthur John Charles White, baptism date: 13 May 1829
Mary Ann Reffell, baptism date: 9 August 1840
Jane Headland, baptism date: 22 May 1847
Maria Headland, baptism date: 20 November 1847
Susannah Headland, baptism date: 2 March 1852
Annie Reffell, baptism date: 6 January1864
Those known to have been married here:
Thomas West and Fanny Reffell, marriage date: 29 August 1802
Frederick Smith and Mary Ann Reffell, marriage date: 12 February 1842
Robert Dace Lyell and Elizabeth Jenkins, marriage date: 17 July 1852
Henry William Headland and Harriett Salter, marriage date: 15 January 1855
William Joseph Reffell and Emma Lavinia Smith, marriage date: 23 January 1856
George Wyeth & Elizabeth Burchatt, marriage date: 11 May 1865
Albert John Watkins and Jane Headland, marriage date: 23 December 1866
George Powell & Matilda Wyeth, marriage date: 3 July 1877
John Thomas Langton and Margaret Reffell, marriage date: 22 November 1882