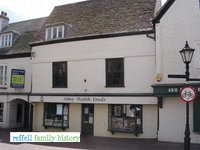 John Reffell (1788-1853) was baptised on 19 March 1788 at Epsom and married Sarah Sharp (1784-1841) at Wanstead on 7 March 1820, living in Waltham Abbey for the rest of their lives. They had no children.
He had a half-sister called Mary Barnes (1795-) who married Henry Terry (1795-1853) on 7 February 1814 at Christ Church Newgate Street and had three children; Sarah Reffell Terry (1825-1882), Charlotte Barnes Terry (1828-1884) and John Reffell Terry (1830-1899).
John was the publican of The Greyhound at 3 Sun Street Waltham Abbey between around 1822 and 1840. The Greyhound dates from around 1776, and is currently a health food store. Although a small town, White's Directory of Essex 1863 lists at least 22 public houses in existence.
By 1841 his wife had died and he had retired and moved to the nearby hamlet of Upshire Waltham Abbey with his half-niece Sarah as his housekeeper.
In 1851 they are still living together at 8 High Bridge Street, but John was to die in the last quarter of 1853 and was buried with wife Sarah at the church of Holy Cross and Saint Lawrence, Waltham Abbey.
Sarah married Samuel Lowin (1819-1861) early in the following year and their first child was an infant John who was born and died in 1854. Their next children were twins Charles Terry Lowin (1859-1940) and William Reffell Lowin (1859-), who emigrated to New Zealand and Australia respectively.

Many thanks to Stephen Harris and Essex Pubs for the photograph.