George Edward Reffell (1893-1954)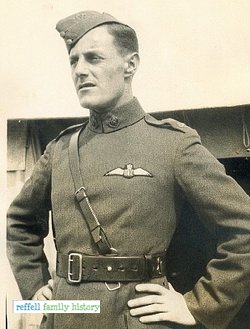 George Edward Reffell was born on 27 June 1893 at 109 Fulham Road Chelsea, and was baptised at the church of St Luke Chelsea. He was the eldest son of Edward Reffell (1851-1909) & Emily Louisa Fenlon (1866-1916), and a grandson of Henry Hatch Reffell. He preferred to be known as Edward, rarely using his first name. Younger brother Frank Alexander Reffell was in the Royal Navy for 34 years.
From June 1913 Edward was working for S Pearson & Son in Algeria, but with their permission a few days after Christmas 1915 Edward enlisted into the army as a private in the Inns of Court Officer Training Corps. He was promoted to a corporal and then appointed to a commission on 1 February 1917 in the Royal Flying Corps. He was stated to be a fluent speaker in French, German and Egyptian Arabic. He was initially sent to Denham for a month, then on to Uxford for three months and then onto Egypt on 18 June. Unfortunately he was injured on 15 November 1917 and invalided back to England by December. He relinquished his commission on 11 January 1919 and was allowed to retain his rank of Lieutenant. He was awarded the Victory Medal & the British War Medal.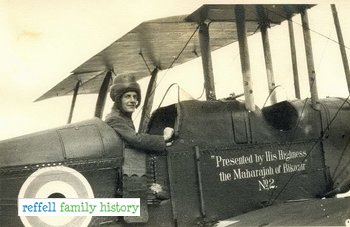 On 18 June 1917 he arrived in Egypt and in the photograph on the left, he is sitting in the pilots seat of a BE2c aircraft in that country. This aircraft was registered as A3065 and had arrived at the 20th Training Wing, 14 Squadron in the September of that year. It was one of four aircraft given to the RFC on 19 January 1917 by His Highness the Maharaja of Bikanir. The BE2c was a major redevelopment of the BE2a (Bleriot Experimental) from 1912. The first BE2c appeared at the Western Front at the beginning of 1915 being tasked with reconnaissance, artillery spotting, and light bombing. However two seat aircraft with an observer in the front cockpit and a pilot in the rear one had quickly became outdated, and the BE2c remained in the front line for only for a short time. It was very short on engine power and was already obsolete when the photograph was taken. This particular machine only lasted until the June of the following year. The BE2c found a new role in training, but this was also short lived and at the end of the war only a few machines of the type remained from more than 2,600 produced. 14 Squadron of the Royal Flying Corps was formed on 3 February 1915 at Shoreham with Royal Aircraft Factory BE2s and departed for the Middle East in November of that same year for Army co-operation duties. In November 1917 the squadron was equipped with Royal Aircraft factory RE8s to perform reconnaissance duties, but was recalled to the UK in January 1919 and disbanded the following month.
On 29 June 1925, George Edward Reffell married Dorothy Vernon McMartin (1894-1953) in Winnipeg Canada. She was always known as Vernon and had been born in Duluth Minnesota in August 1894 to William James McMartin (1870-1920) and Maud Richardson (1875-1954). The family arrived in Canada during 1904. Her brother Robert Bruce McMartin had served in the 76th Battery, Canadian Field Artillery during the First World War.
During 1905, William McMartin started a modest company in a tiny metal shop situated on the banks of the Seine River in Winnipeg called 'The Winnipeg Ceiling and Roofing Company'. The company expanded by the acquisition of several well-known companies in 1926, and was renamed as Western Steel Products Ltd. This is today a global company owned by AGI and called Westeel.
Edward's business career in America was enhanced when on 16 January 1939 he became a vice president with RE Swart & Co of 40 Exchange Place New York. He then joined GA Saxton Co Inc. also of New York in 1947 and worked there until he died. Both companies were in the investment securities business. Edward was a very keen photographer and had a huge collection of photographs taken from all around the world. He also owned an island in the Thousand Islands area between northern New York state and Canada called 'Little Ironsides'. To get to it a rather now-famous boat now called 'Pouff' was used, being the winner of the Thousand Islands 2003 Renaissance Cup Award, which then was called 'Clue'. The island had no electricity, so lanterns were used, and there was a propane tank that could provide fuel for the refrigerator, heater and water pump. On land they had a light grey coloured 1937 Plymouth Coupe to get around in.
Vernon died in March 1953 and was buried on the 11th of that month at St Mary's Cemetery, Yonkers. On the 1st of October of the following year, Edward died at the White Plains Hospital in New York. They had lived at the Scarsdale Manor Apartments in Scarsdale, New York for about twenty years. The funeral started from the Walter B. Cook Inc. Funeral Home at 180 East 85th Street at 10:30, and there was a Requiem Mass in the St Ignatius Loyola Church at 11:00. Edward was later buried next to his wife of nearly thirty years. It was suggested that in lieu of any flowers, contributions could be sent to the Jesuit Seminary Fund in the care of Rev John Long of SJ Scranton University.
It was reported by the newspapers at the time that he was survived by his brother Frank Alexander (1896-1984), unmarried sister Gertrude Emily Mary (1889-1955) in England, and married sister Doris Gwendoline Robinson (1905-) in New Zealand. There were no children.
The photographs are by courtesy of Eddie Reffell. The Canadian & USA information has been kindly provided by the courtesy of Rich Cronin in Wenatchee, Anne Vogt in Montreal and Eileen Hupal in New York. Other information is from service records in the National Archives.