'D' Company 1st Garrison Battalion, Royal Warwickshire Regiment
Died on Wednesday, 18th September 1918 aged 21
Personal Information:
Arthur William Rattle was born in 1Q/1897 in Whitechapel, the son of Agnes Adelaide Rattle (1875-1959). She was the daughter of Philip Rattle (1838-1923) and Harriet Shepherd (1840-1906). Philip had been raised in the Woodbridge Union Workhouse at Nacton Suffolk. Agnes's middle name came from Philip's sister Adelaide Rattle, who died in the workhouse.
Agnes had four brothers and five sisters; Philip James (1865-), Harriet (1867-), Mary Eliza (1869-), George Albert (1871-), Rebecca (1873-), Alice Louise (1878-1879), Daniel Galloway (1878-1879), Edward Galloway (1879-) and Annie Louis (1883-1884).
The family moved from Suffolk in the 1890s to Plaistow in East London and Philip James, George and Edward worked on the railways, it is thought the London, Tilbury & Southend Railway.
Agnes married George William Clements Frith (1873-1958) in 2Q/1905 at West Ham Essex. George also worked on the railways. Due to his mother's marriage, Arthur was then brought up by his grandparents, although both families lived in Geere Road Plaistow in 1911. Arthur had a step-brother and two step-sisters; Philip James (1907-1945), Dorothy Agnes (1908-1997) & Edith Maud (1910-2010). Philip James Frith was a prisoner of the Japanese in the Second World War and died in a POW camp in Indonesia.
At the time of Arthur William's death, Agnes was living at 19 Railway Cottages Abbey Road West Ham.
Arthur was awarded the British War Medal and the Victory Medal.
Historical Information:
During the First World War The Royal Warwickshire Regiment raised 30 battalions. Three of these, 14th, 15th and 16th (Service) Battalions, were raised in September 1914 from men volunteering in Birmingham were known as The Birmingham Pals. The Regiment was present at all the big battles of the Western Front, and some battalions also saw action in Italy, Gallipoli, Mesopotamia and Persia. The Royal Warwickshire Regiment won six Victoria Crosses during the First World War.
The 1st Garrison Battalion was formed at Weymouth in August 1915 and moved to Egypt where it remained for the rest of the War. At the time of Arthur's death it was stationed at Port Tewfit on the Suez Canal.
Cemetery:
Grave A31Suez War Memorial Cemetery, Egypt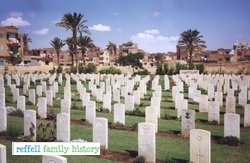 Suez was important in the 1914-1918 War as a hospital centre. Here there were at different times, two Indian General Hospitals, two Stationary Hospitals, and Casualty Clearing Stations for British and enemy sick and wounded. On the West side of the town are Protestant, Catholic, Greek, Coptic and Jewish Cemeteries and the first War burials took place in a special plot in the Protestant Cemetery. The separate War Memorial Cemetery was established in 1918.