29th Battalion, Canadian Infantry (Vancouver Regiment)
Died on Monday, 9th April 1917 aged 17
Personal Information:
Sidney George Wheelwright was born on 16th April 1899 at Forest Hill, the fifth son of Henry Wheelwright (1855-1943) and Elizabeth Maria Reffell (1863-1949). He had two brothers, three step-brothers, four sisters and one step-sister. The family emigrated around 1910 to Vancouver Canada and in 1916 were living at 1056 Grabville Street, Vancouver.
He enlisted on 22 February 1916 at Vancouver aged 16. It would appear that Sidney Wheelwright deliberately lied about his age in order to join up, as his attestation shows that he stated that he was two years older than he actually was.
Sidney sailed from Canada on the SS Olympic which left Halifax on 14th November 1916 and arrived in the UK at Liverpool on 20th November. On 9th April he was fighting in France at Vimy Ridge and when he died he was seven days short of his 18th birthday.
Many historians and writers consider Vimy a defining moment for Canada, when the country emerged from under the shadow of Britain and felt capable of greatness. Canadian troops also earned a reputation as formidable, effective troops. But it was a victory at a terrible cost, with more than 10,000 killed and wounded. Vimy became a symbol for the sacrifice of the young Dominion. In 1922, the French government ceded to Canada in perpetuity Vimy Ridge, and the land surrounding it. The gleaming white marble and haunting sculptures of the Vimy Memorial was unveiled in 1936, and stands as a terrible and poignant reminder of the 11,285 Canadian soldiers killed in France who have no known graves.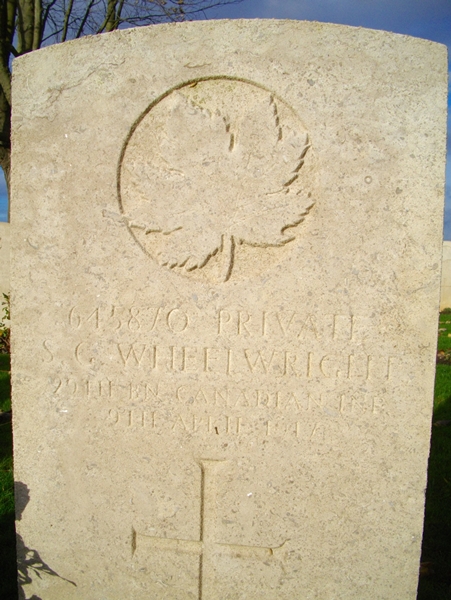 Burial:
Nine Elms Military Cemetery, Thelus, Somme III. E. 10
'Nine Elms' was the name given by the Army to a group of trees east of the Arras-Lens main road, between Thelus and Roclincourt. The cemetery was begun after the capture of Vimy Ridge, by the burial of 80 men of the 14th Canadian Infantry Battalion who fell on the 9th April 1917. Most of the rest of the cemetery was made after the Armistice by the concentration of British and French graves from the battlefields of Vimy and Neuville-St. Vaast and from certain small cemeteries. Thelus is a village about 6.5 kilometres north of Arras, there are 537 casualties from the First World War buried here.