32nd Battalion, The Royal Fusiliers (The City of London Regiment)
Killed in action on Saturday, 22nd September 1917, aged 20
Personal Information:
William Ayling (know as Willie) was born in the second quarter of 1891 at Ewell Surrey, the youngest son of Joseph George Ayling (1860-1935) and Emily Ann King (1860-1898). He had five brothers and two sisters, and he was the great grandson of Mary Reffell (1786-1850).
In 1911 Willie was, like his father, a boot maker by trade and was living in West Street Ewell. He was living there with his father, step-mother Ada Jane Emily and brothers Joseph, Harry & Percy.
William joined the Royal Fusiliers at Horsham and was living in south west London at that time. He was awarded the Victory & British War medals.
Historical Information:
The assault on Tyne Cott (the Third Battle of Ypres) began on 31 July 1917 and slogged on for 14 weeks. The area was finally taken on 4 October, but the Germans reoccupied it from April – September 1918, when the Belgium Army retook it.
Memorials:
1) Panel 28 to 30 Tyne Cott Memorial, Zonnebeke, West Vlaanderen, Belgium. Tyne Cot is the largest British war cemetery in the world.
2) St Mary, Ewell, Surrey
The Ewell memorial was unveiled on Wednesday 27th July 1921, although there had been a shrine to the fallen here as early as 1917.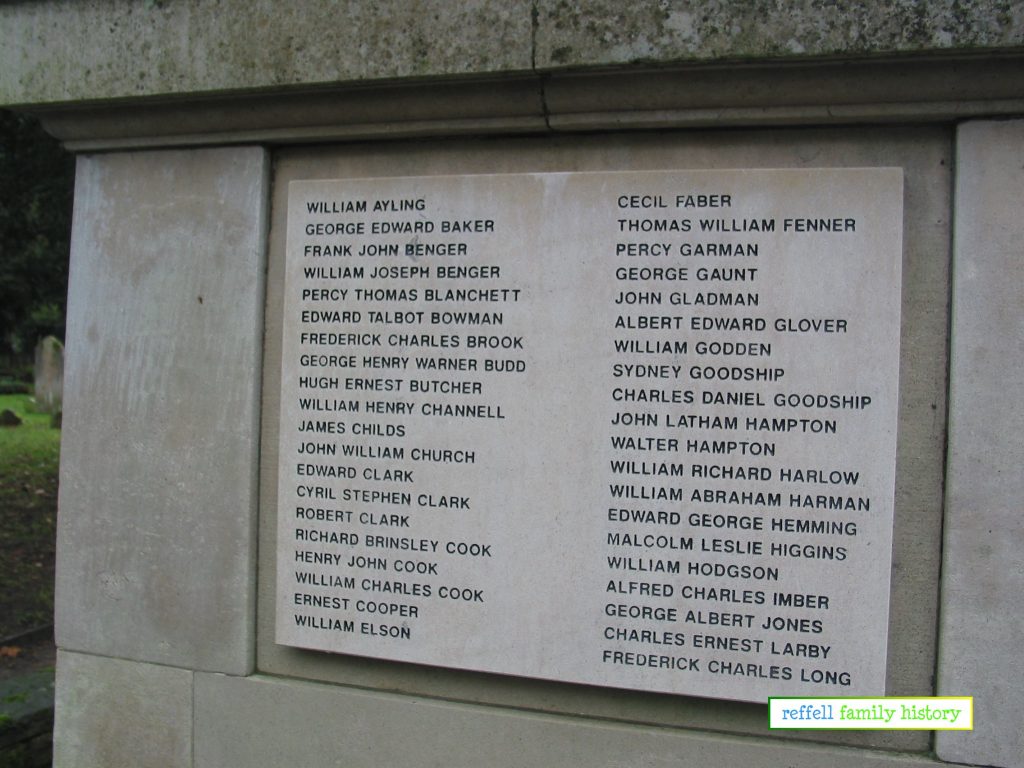 3) Ewell Memorial, Ewell, Surrey
This memorial commemorates the 80 residents of Ewell who were killed or missing in the First World War and was dedicated on 15 April 1917.