SS Lagosian (Liverpool), Mercantile Marine Service
Died on Sunday, 28th March 1943 aged 34
Personal Information:
Born in 15 July 1905 in Sierra Leone. Address in 1943: 140 Mill Street, Liverpool
Awarded the 1939 – 1945 Star, the Atlantic Star and the War Medal.
Discharge 'A' Certificate: R253760, Previous ships; SS Banhill, SS Guinean and SS Princessa. Owed £24 12s in back pay when he died.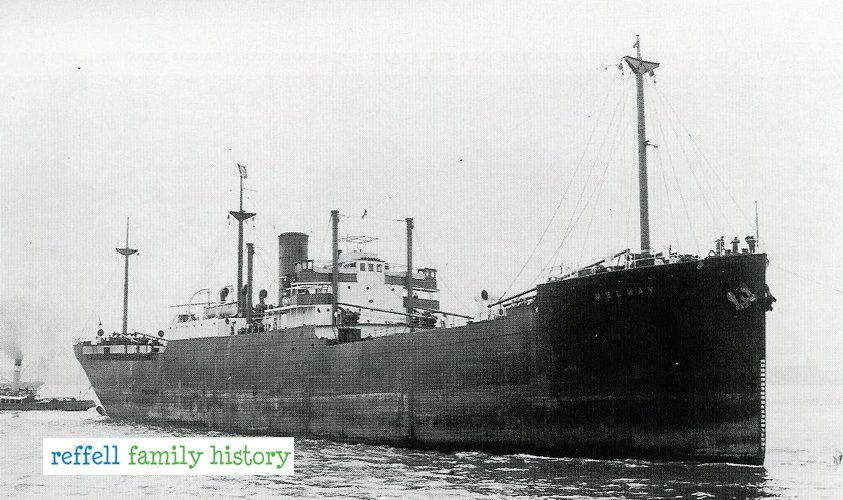 Historical Information:
Began life as the SS Melmay, renamed SS Lagosian 1932.
Built 1930 by Greenock Dockyard Company. 5449 tons 421x59x25 604 nhp. 12 knots, quadruple expansion engines.
The Lagosian was owned by the United Africa Co. Ltd, who were better known as the Palm Line.

The image above is of the SS Lagosian when she was named the SS Melmay and is taken from 'Palm Line' by Laurence Dunn & P.M. Heaton (ISBN 8720006019)
The steamship Lagosian under Captain GW Irwin was part of convoy RS-3 from Algiers & Gibraltar to Takoradi. It consisted of 5 tugs, a cable-laying ship, three merchant ships, 2 corvettes and 2 armed trawlers. A Seeräuber of 7 German U-boats intercepted them during 28 March off the coast of Rio de Oro, West Africa. On the morning of the 28th, the corvettes left to protect a convoy going north. Around midnight U-boat U167 commanded by Kurt Sturm torpedoes the SS Lagosian which sinks slowly.
There are 10 other names commemorated on the Tower Hill memorial.
Killed 2nd September 1940 when the SS Lagosian was attacked and damaged by aircraft en route from Hull to Burutu;
James Flynn, Boy, Age 18. Son of Mrs. M. Flynn, of Liverpool.
Alfred Henry Jarvis, Second Officer, Age 35. Son of Herbert Henry and Carrie Jarvis; husband of Beryl Jarvis, of Lower Swanwick, Hampshire.
William Morris, Cook, Age 31. Son of William and Alice Morris; husband of Dorothy Elsie Morris, of Anfield, Liverpool.
George Sue, Assistant Cook, Age 21.

Killed 28th March 1943;
Charles Leonard Hewitt, Second Engineer Officer, Age 36. Son of Edward and Mabel Hewitt; husband of Bessie Hewitt, of Widnes, Lancashire.
Stanley Fraser Jamieson, Chief Engineer Officer, Age 57. Son of Mr. and Mrs. J. H. Jamieson, of Aberdeen; husband of Nellie F Jamieson, of Aberdeen.
Joseph Magai, Fireman, Age 38.
Ernest Alexander Miller, Fourth Engineer Officer, Age 44. Son of John and Lily Fleming Miller, of Dunston-on-Tyne, Co. Durham.
Samuel A R Turner, Fireman, Age 25.
Tom Friday Tuweh, Fireman, Age 36.

There is one other crew member from this ship whose grave is looked after by the CWGC who died shortly after the ship was lost.
Stanley McCall, Able Seaman, 4th April 1943. Age 21. Buried El Alia Cemetery. Plot 12. Row J. Grave 24.
Memorial:
Tower Hill Memorial, London.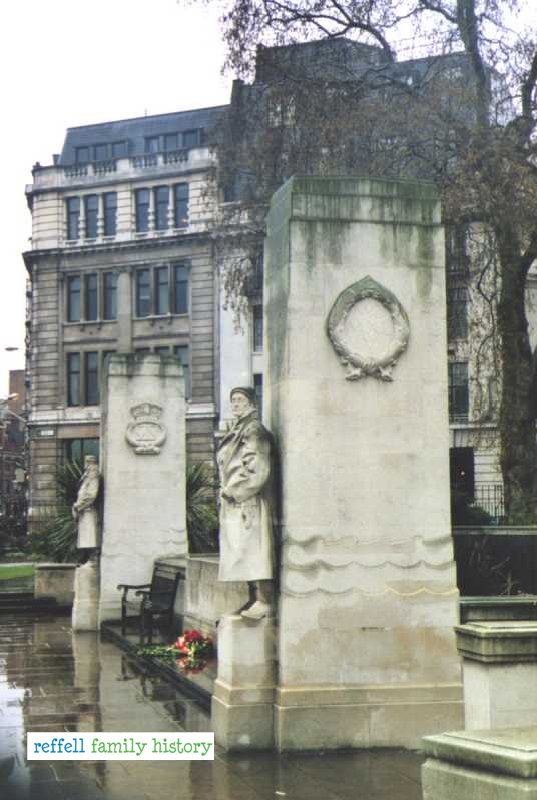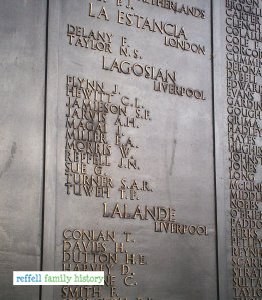 The Second World War memorial is a semi-circular sunken garden some 2 metres below the general level of Tower Hill Gardens.
From the 1914-18 Memorial, stone steps flanked by high stone pylons, on which are the Merchant Navy badges and wreaths, lead down to the sunken garden. Between the flights of steps is the main dedicatory inscription, which reads:
1939-1945 THE TWENTY-FOUR THOUSAND OF THE MERCHANT NAVY AND FISHING FLEETS WHOSE NAMES ARE HONOURED ON THE WALLS OF THIS GARDEN GAVE THEIR LIVES FOR THEIR COUNTRY AND HAVE NO GRAVE BUT THE SEA.
This inscription is guarded by sculptured figures in stone representing an officer and a seaman of the Merchant Service.
Many thanks to Billy McGee from the Mercantile Marine community for much of the information.