At Tower Hill there are three separate memorials to those who died at sea; for the First World War, Second World War and the Falklands War.
The First World War Memorial takes the form of a vaulted corridor that is 21.5m long, 7m wide and up to 10m high. Around the inside and part of the outside are 12 bronze plaques engraved with 12,000 names. Designed by Edwin Lutyens, it was opened by Queen Mary on 12 December 1928.
The Second World War Memorial was designed to be lower that the earlier memorial to avoid obstructing Trinity House, and is in the form of a semi-circular garden. It contains the names of 24,000 British seamen and 50 Australian seamen listed on the walls of the sunken garden. In the centre of the garden is a pool of bronze, engraved with a compass pointing north and was designed by Edward Maufe. The main inscription reads: THE TWENTY-FOUR THOUSAND OF THE MERCHANT NAVY AND FISHING FLEETS WHOSE NAMES ARE HONOURED ON THE WALLS OF THIS GARDEN GAVE THEIR LIVES FOR THEIR COUNTRY AND HAVE NO GRAVE BUT THE SEA. This inscription is guarded by sculptured figures in stone representing an officer and a seaman of the Merchant Service.
The Merchant Navy Falklands War Memorial was unveiled on 4 September 2005 and commemorates the Merchant and Royal Fleet Auxiliary sailors who lost their lives when the Atlantic Conveyor and RFA Sir Galahad went down.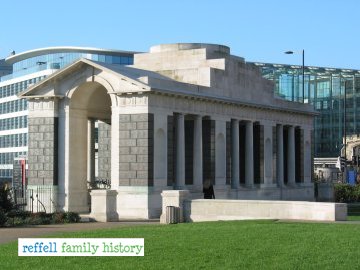 Commemorated here:
CF Reffell, age: 22, death date: 28 March 1915
George Henry Mandell, age 35, death date: 21 February 1941
Richard Brown, age: 36, death date: 18 August 1942
James Nicholas Reffell, age: 34, death date: 28 March 1943