Pozieres is a village some 6 kilometres northeast of the town of Albert. The Memorial encloses Pozieres British Cemetery, which is a little southwest of the village on the north side of the main road, D929, from Albert to Pozieres.
On the road frontage is an open arcade terminated by small buildings and broken in the middle by the entrance and gates. Along the sides and the back, stone tablets are fixed in the stone rubble walls bearing the names of the dead grouped under their Regiments.
The Memorial relates to the period of crisis from March 1918 when the Fifth Army was driven back by overwhelming numbers across the former Somme battlefields, until the 8 August 1918 Advance to Victory. The Memorial commemorates over 14,000 casualties of the United Kingdom and 300 of the South African Forces who have no known grave, and who fell in France during the Fifth Army area retreat on the Somme from 21 March to 7 August 1918. The Corps and Regiments most largely represented are; the Rifle Brigade with over 600 names, the Durham Light Infantry with approximately 600 names, the Machine Gun Corps with over 500, the Manchester Regiment with approximately 500 and the Royal Horse & Royal Field Artillery with over 400 names.
Although the memorial stands in a cemetery of largely Australian graves, it does not bear any Australian names; the Australian soldiers who fell in France and whose graves are not known are commemorated on the National Memorial at Villers-Bretonneux.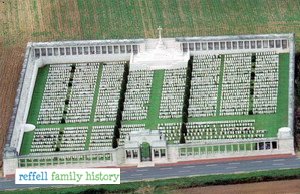 Commemorated here:
Fitzroy Alfred Reffell, age: 19, death date: 24 March 1918